Ventilation

DX Kit for Air Handling Applications
Multiple temperature sensors optimally control an air handling unit and a fan coil unit.
When connected to an air handling unit (AHU), the temperature of supply air is controlled by a discharge sensor.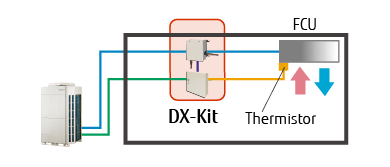 When connected to a fan coil unit (FCU), the room temperature is controlled by a return-air temperature sensor.
Application as part of a VRF system
Supports a wide range of capacity classes
Two EEV units can be connected in parallel to large capacity units of up to 20 HP (50 kW). (UTP-LX180A Separation Tube required)
Connectable capacity range: 5 to 50 kW

A variety of control options that meet application requirements

Central control enabled by our VRF controllers or central management controllers

Central control from external controllers
Inputs
On/Off
Setting temperature
Capacity demand
Heating and cooling operation modes
Fault information
Outputs
On/Off indication
Fan On/Off indication
Thermostat On/Off indication
Defrost indication
Fault indication
MODBUS® Converter
Can be controlled via a MODBUS®-enabled BMS using an optional interface.
Installation requirements
Connectable VRF series: J-IIS, J-II, V-II, VR-II
Capacity range of connectable DX Kit systems: 50 to 100% of an outdoor unit's capacity
Capacity range of connectable DX Kit systems with indoor units: 30% or less of an outdoor unit's capacity
Max. wiring length from a control unit: 10 m
Max. piping length between an EEV unit and an indoor unit: 5 m
Outdoor installation: A control unit (IP54 class) and an EEV unit can be installed outdoors.

Optional Separation Tube to connect 2 EEV units: UTP-LX180A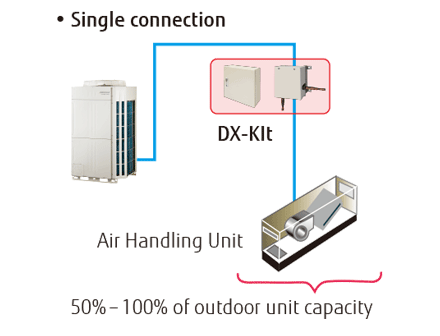 Piping and wiring length