Jacksons Car Showroom
Climate Control of Showroom Condition
When Jacksons Motor Group wanted a climate control package for their new high-spec car showroom on the Isle of Man, they looked no further than Fujitsu UK.
It was important for Jacksons to be able to provide their customers with a comfortable and relaxing environment in which to browse - marrying their high-end products with a suitably high end experience.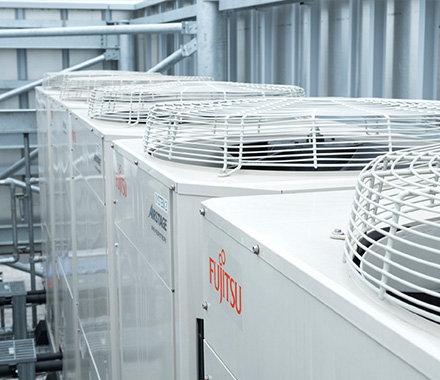 Fujitsu Airstage V-III
Across the two-floor building; located on the outskirts of Douglas, showrooms 1 and 2, the reception, offices and handover areas have been equipped with Fujitsu's latest Airstage™ VRF technology. Airstage™ heat recovery ventilation systems introduce fresh air into the building and is complimented by Fujitsu's stylish wired remote controllers, boasting a 3.4-inch LCD display, which are used throughout the showroom. Together, these technologies make controlling individual zones a simple exercise.
Fujitsu 600 x 600 compact cassette
Airstage™ V-III serves the ground floor, showroom 1 area. A combination of models from Fujitsu's heat pump VRF range with a Eurovent certified SEER of 6.5; make up a combined capacity of 111.5kW, over five separate systems. Accompanied by compact four-way cassettes throughout, with a chassis size of just 540mm x 540mm; style and substance are showcased throughout this elegant showroom.
Quality, Comfort & Value for Money
Commenting on the decision to choose Fujitsu's products, Chris Beech, Area Sales Executive at Cool Designs Ltd, said: "Jacksons has some very prestigious cars in its showrooms, so it was important that the air conditioning systems were of an equally high standard. From all the manufacturers we considered, Fujitsu came out on top in terms of quality, comfort and value for money. Their equipment was also ideal in terms of achieving the cost savings outlined by the customer. This was a great project to be involved with – and everybody is extremely proud of the results."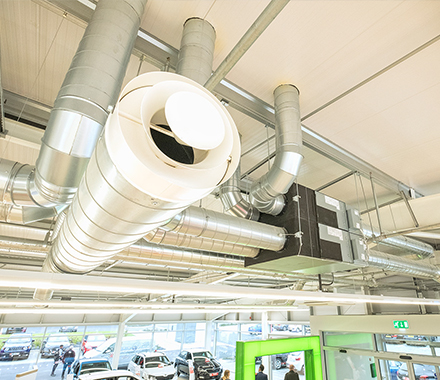 Fujitsu Airstage Energy Recovery Ventilator
In terms of the installation itself, Simon Musgrove, Mechanical Project Engineer, SCS Ltd, added: "The Fujitsu air conditioning systems fitted here will provide a temperature-controlled environment throughout customer zones, while ensuring the showroom spaces themselves are heated, cooled and ventilated efficiently."
He continued: "Using air-to-air heat pump technology, in conjunction with heat recovery units, for large areas such as these ensures low cost and efficient operation – without compromising on quality. This will then save the client money in due course, especially when compared to more traditional methods of heating and cooling. The equipment will also provide a comfortable indoor environment, ensuring a regular exchange of air to reduce stuffiness."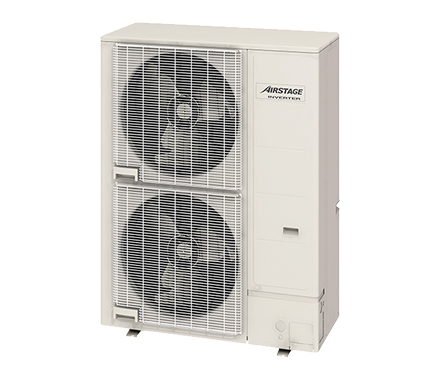 Fujitsu J-IIIL
Restricted Space
"Powerful, lightweight and compact", is how Fujitsu's Nick Wilks described the Airstage™ J-IIIL VRF range. Serving the first-floor showroom 2 and associated offices, Fujitsu's National Distribution Manager commented that the outdoor plant space available to serve this area was very restricted.
"The only place for outdoor units was on the roof, but weight was an issue along with eliminating any visibility from the public's perspective". He added: "This range of horizontal discharge, twin fan units offer huge capacities; up to 50kW from a small slim line chassis. With a weight of only 170kg and a height of 1.4m; the 22.4kW models were an ideal solution here. Spaced around the roof, the seven systems that were used gave us the total load for the upper floor and allowed local zoning for the perfect climate control".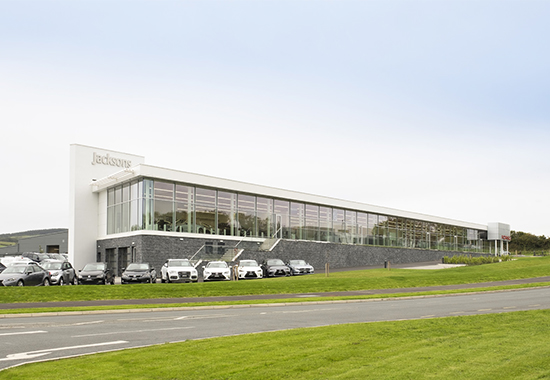 Jacksons, Isle of Man