3 Pancras Square
King's Cross, London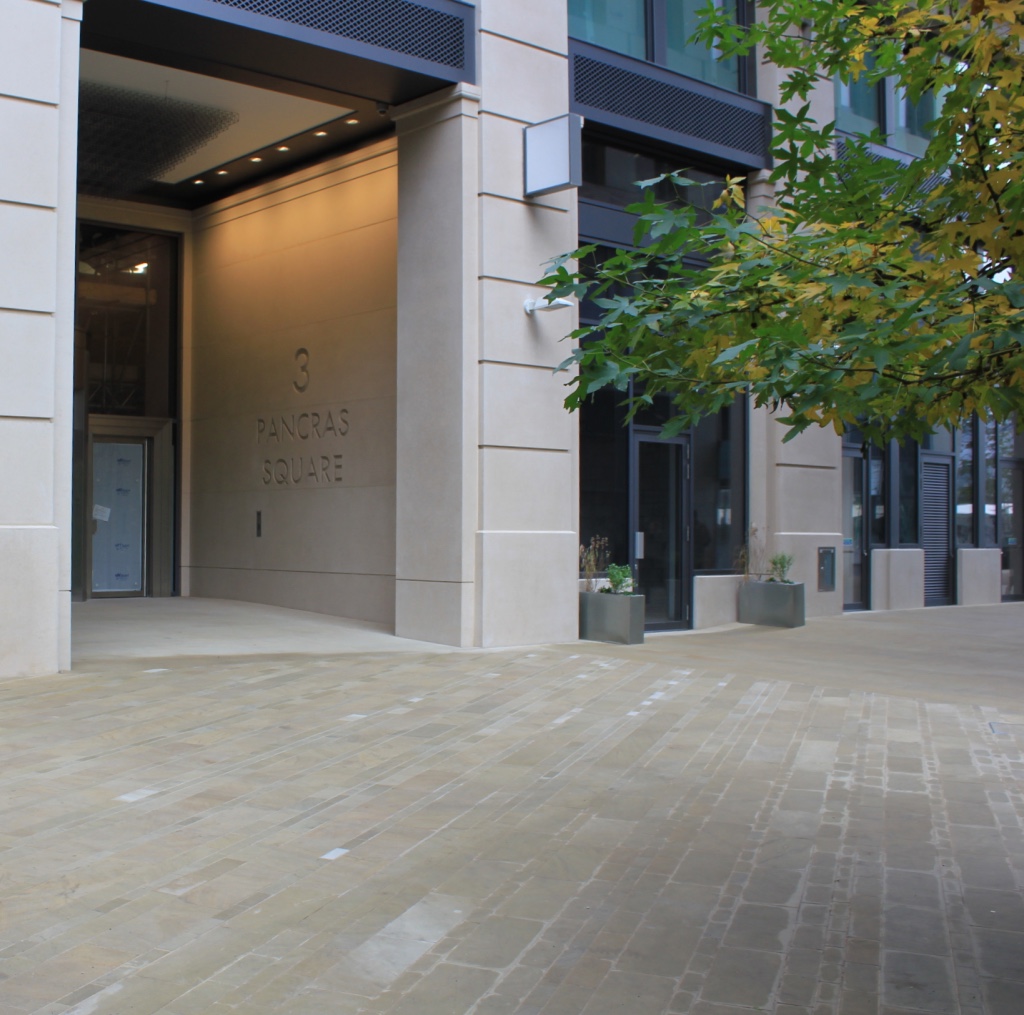 A critical cooling project put the 'extra' into extraordinary at prestige development.
Fujitsu Air Conditioning (UK) have supplied VRF Heat Pump systems for the prestigious new office building of global communications giant, Havas Media Group, at 3 Pancras Square, King's Cross, London.
King's Cross is an extraordinary part of the extraordi-nary global city that is London. It is a whole new piece of London with a brand new postcode, N1C.
After 150 years of industrial use, the area to the north of King's Cross station is being transformed into a vibrant new city quarter.
Fujitsu at the heart of this exciting redevelopment
King's Cross is one of the largest and most exciting redevelopments in London, as well as one of the largest regeneration projects in the UK at present.
3 Pancras Square is an imposing building, designed by Porphyrios Associates, standing at the north east corner of Pancras Square at the very heart of the spectacular new development. The building comprises 11 storeys including 3 private roof terraces, with Fujitsu wall mounted fan coil units being chosen by the consultant Troup Bywaters + Anders London to provide the critical cooling to the UPS, SER and AV rooms. The consultant designed a 2N Resilience arrangement which entailed doubling up on the required num-ber of fan coil units in each respective room. At any one time only fifty per cent of the fan coil units will be operating. The other fifty per cent would be energised in the event of a change-over of circuits or in the event of failure.
Fujitsu also supplied their latest 'state of the art' central touch panel controller which has been inter-faced to the building's BMS system and is capable of remote internet access providing the maintenance contractor with the ability to change temperature settings, alternate the use of circuits and provide full fault alert and remote diagnostic capability.
Partnering with the consultants
Mark Derriman, Fujitsu's VRF Business Development Manager commented:
"Consultants are crucial to the success of many projects, from the iconic to the everyday. Their specialist expertise is critical for refurbishment projects, and vital for those projects involving creative digital media such as this one. The consultant ensures that the project is designed and efficiently delivered for their clients. Fujitsu understands this and works with them at every stage of the process, starting with the design stage, and equally importantly, continuing this support throughout the project's installation programme with technical back-up and observations. Every project must be treated with the utmost care to ensure that the consultant and their clients are delivered exactly what was intended, on time, and crucially, on budget. It is great to work closely with vibrant consultancies such as Troup Bywaters + Anders whose professional involvement guaranteed the success of this project."
Asim Naseer Senior Mechanical Engineer at Troup Bywaters + Anders commented:
"We needed an equipment selection which would be easy to install and easy to operate, provide the critical cooling capability and resilience according to our design specification and satisfy our client's stringiest requirements.
It was also important that the procurement of the equipment was cost effective and that the extended warranty by the manufacturer would protect HAVAS (our client). Backed up by outstanding technical support throughout the project we feel that Fujitsu have provided excellent value overall."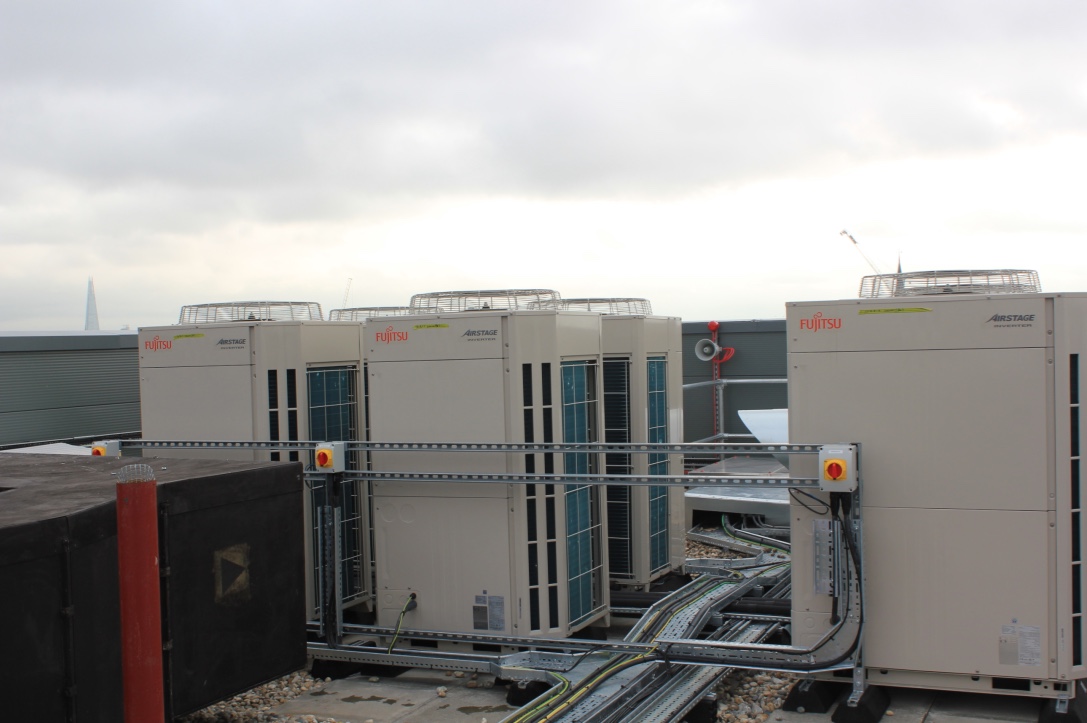 The building was completed during Summer 2016; with the fit-out following on. The main contractor appointed for the project was Structure Tone Ltd who specialise in high quality fit out and refurbishment projects and their appointed mechanical contractor was Michael J Lonsdale a leading services contractor.
"Fujitsu have supplied the equipment in an organised and timely manner. The equipment installation has proceeded well and technical back up and commissioning assistance by Fujitsu has been excellent".
- Kaz Glander, Contracts Manager for MJL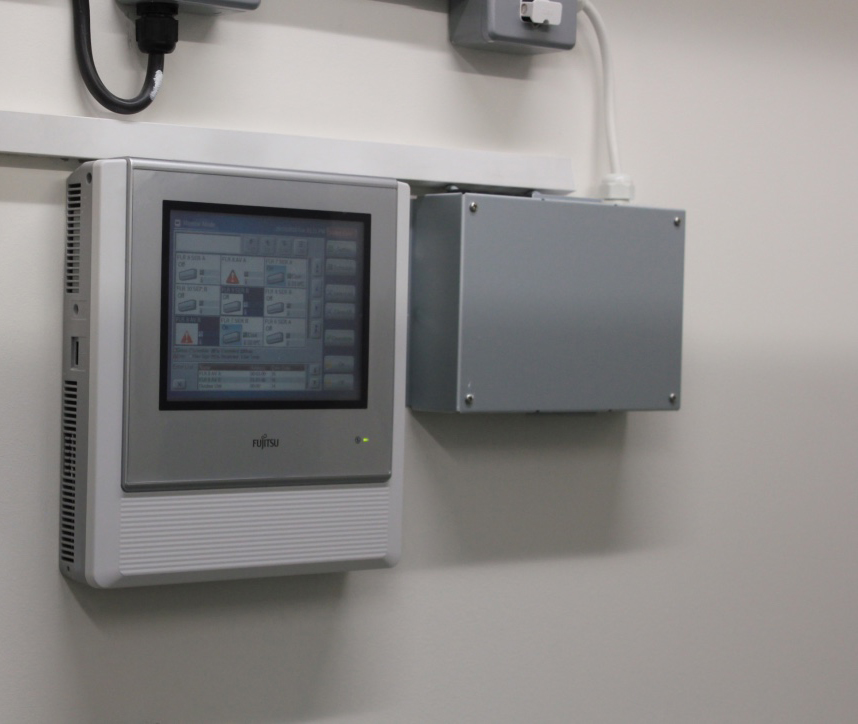 "During the design phase we consulted various manufacturers and built a comparison schedule. The Fujitsu solution ticked all our boxes including reliability, compliance and energy efficiency. The difference between Ordinary and Extraordinary is just the "Extra". Fujitsu met all of our considerations plus this little Extra; an excellent backup on site."
- Asim Naseer:
"The redevelopment site has a rich history and a unique setting. It is being transformed into a new part of the city with homes, shops, offices, galleries, bars, restaurants, schools and even a university. Something special is happening here: an extraordinary part of London is taking shape and Fujitsu are now a part of making this happen for future generations.
- Mark Derriman
Satisfied client
The Havas teams moved in during early 2017. The global marketing and media group have moved to King's Cross to consolidate its UK presence. Havas were reportedly drawn to King's Cross because of its high quality office offering coupled with excellent infrastructure and facilities for its staff. Havas's new building will offer a fantastic workplace in London's most successful urban quarter, with unrivalled transport services and staff amenities.
Mark Derriman, enthused about the project:
"We are delighted to have been involved in such a prestigious project. Cooling is critical to the operation of the media group Havas, and we are pleased to have been selected for such a high profile and important element. We are proud to have contributed to the success of the project, and to the ongoing success of Havas."
Fujitsu Air Conditioning (UK) is part of the Fujitsu Group, one of the best known and most successful engineering and electronics organisations in the world. Fujitsu Air Conditioning is a world leading pro-vider of innovative, reliable and energy efficient air conditioning products.