Fujitsu Ireland
IT services head office
Fujitsu Air Conditioning (UK) helped its sister organisation, Fujitsu Ireland, maintain the perfect temperature, by the complete replacement of its ageing air conditioning system with state-of-the-art Fujitsu VR-II three-pipe VRF systems
The large project at Fujitsu Ireland's IT services head office, involved the instal-lation of seven 45kW, two 40kW and one 33.5kW outdoor units across the two floor and three wings of the Fujitsu Ireland offices at Swords in County Dublin.
The VRF systems, together with the indoor ducted systems and a DX split system in the IT room were all installed by Dublin-based contractor Crossflow, through facilities management company Mitie.
The new Fujitsu system replaced an old one based on the no-longer available R22 refrigerant in a mixture of open-plan areas, small offices and meeting rooms. The IT room was kept on a separate system as it required almost constant cooling.
All the systems are controlled via Fujitsu's PC-based System Controller, allowing remote access for energy management, scheduling and fault fighting.
"Thanks largely to Fujitsu's people and its equipment, it all went extremely smoothly"
- Padraig Hanvey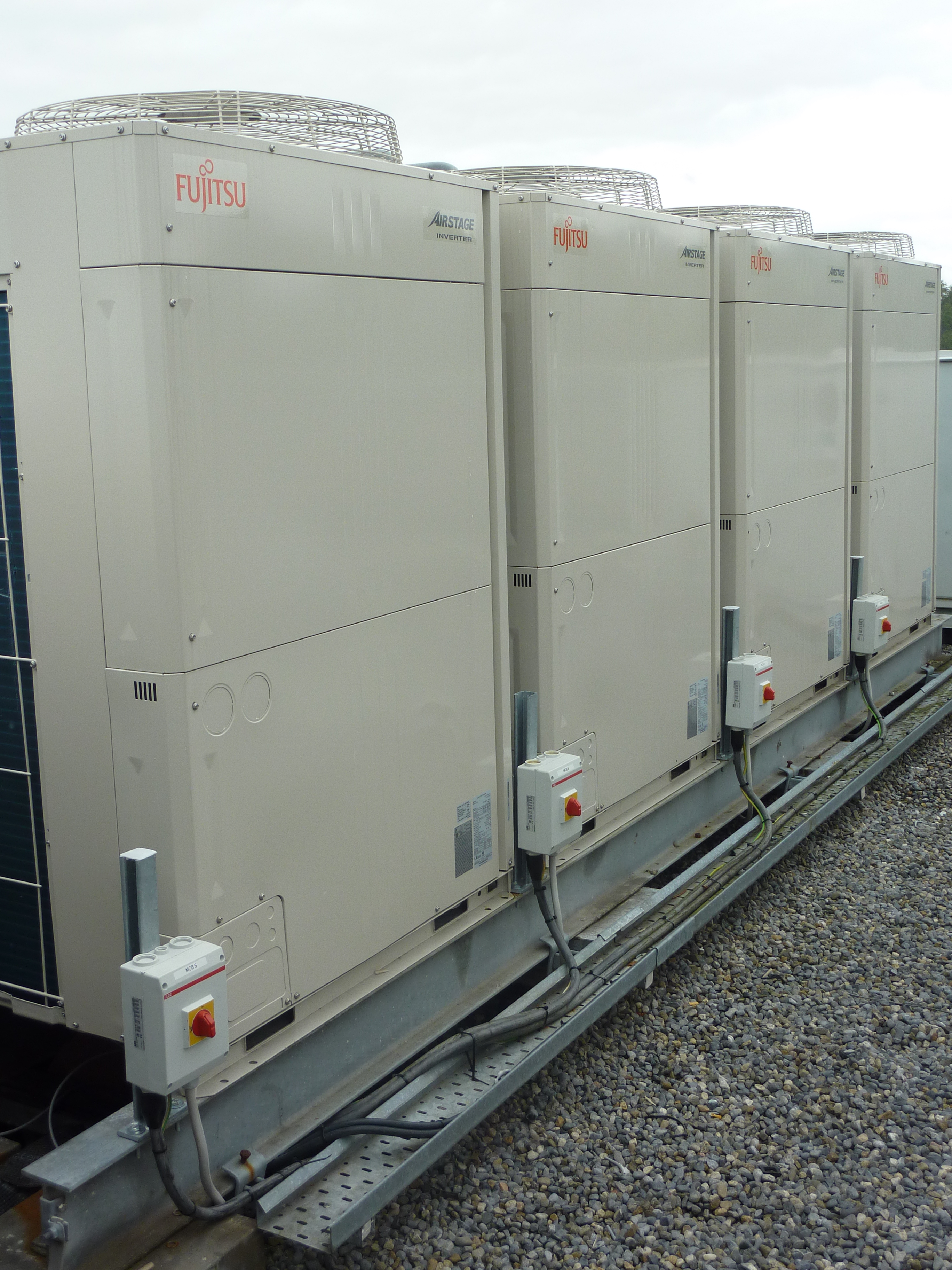 Crossflow is a solutions provider offering full technical support from supply and installation through to commissioning across the whole facet of the construction and facilities industry through-out Ireland & the UK.
Crossflow Sales Director Padraig Hanvey said:
"There were a number of challenges with the installation, such as the fact it was a working building, so most of the installation had to be done at night.
"Because we weren't familiar with the equipment we received a great deal of help from Fujitsu's technical manager Martyn Ives and our engineers were sent for free specialist training at Fujitsu Air Conditioners training centre at Elstree, near London."
-Padraig Hanvey, Crossflow Sales Director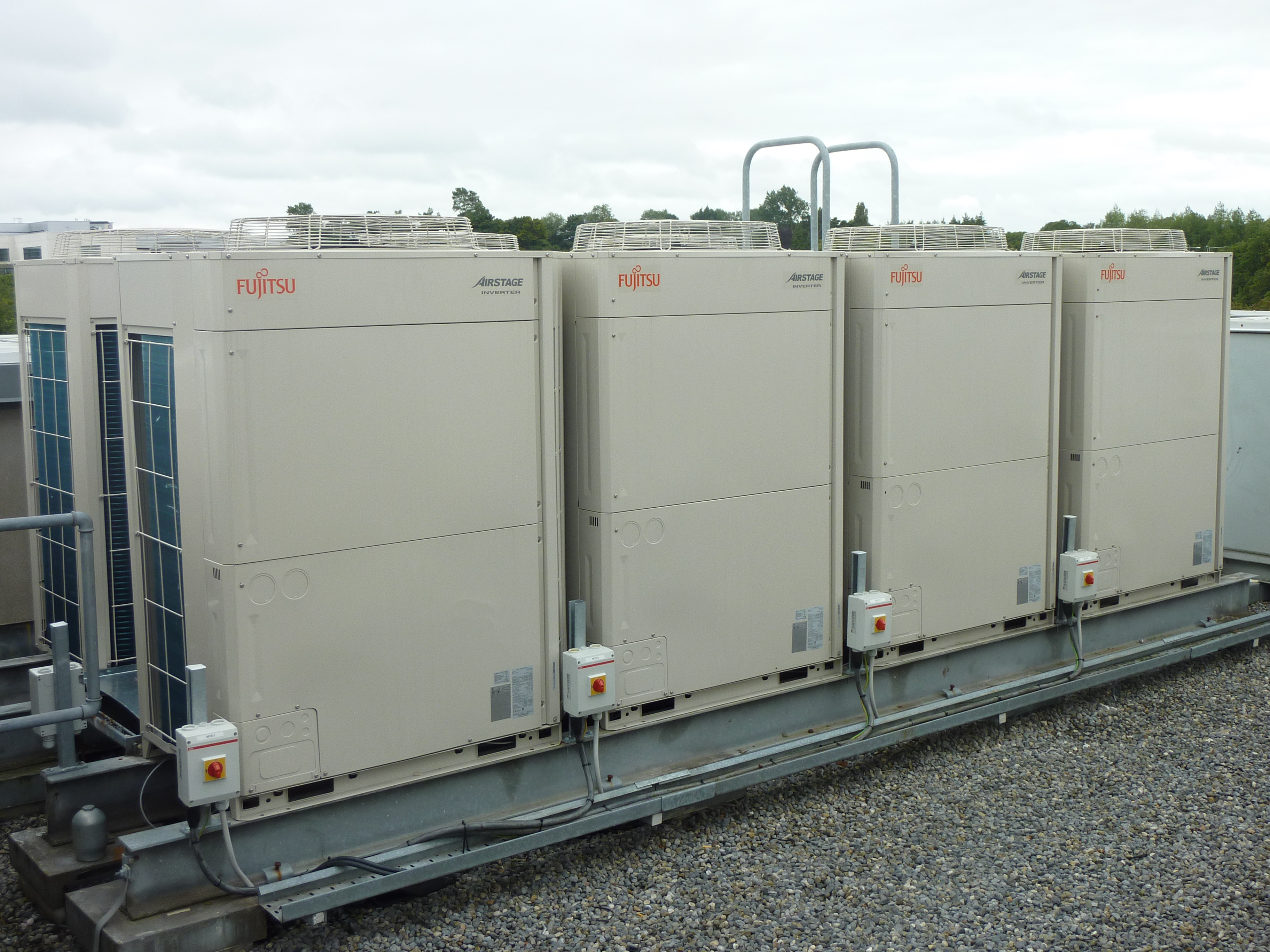 "Our engineers were very impressed with the equipment and how easy it was to in-stall and commission. You normally get some hitches but this installation went as smoothly as we could have wanted."
-Padraig Hanvey
"Both designer and installer had never used Fujitsu VRF before and are well impressed, saying it is as good, if not better, than other manufacturers."
- Chris Dymond, Fujitsu Services internal project manager
Crossflow is a family run company with over 45 years of technical expertise. They provide a full turnkey package, installed and commissioned by experienced and professional engineers who are specifically trained in all aspects of our products. Following the installation, Crossflow received full marks in Fujitsu internal installation audit.
Padraig Hanvey added:
"Obviously Fujitsu systems were specified by the end user, we had never installed them before, but we certainly will again."
Fujitsu's sales and marketing director, Ian Carroll said:
"It was pleasing to work with Crossflow on this prestigious project for Fujitsu Services. It shows that when installers see the quality and flexibility of our VRF backed by our first class technical team, they will then put Fujitsu forward on future projects."
Fujitsu Air Conditioning (UK) is part of the Fujitsu Group, one of the best known and most successful engineering and electronics organisations in the world. Fujitsu Air Conditioning is a world leading provider of innovative, reliable and energy efficient air conditioning products.