ALL HANDS ON DECK
FUJITSU'S AC SYSTEMS HELP HEAT HMS BELFAST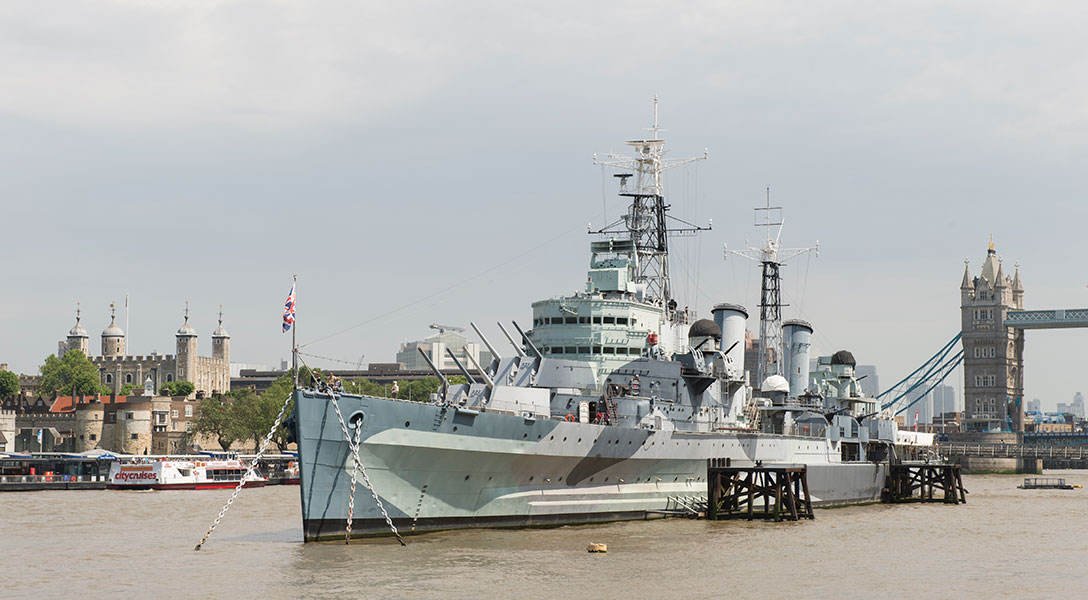 Historic London tourist attraction HMS Belfast has had its air conditioning system upgraded, with the addition of three AUXB18GALH 4-way compact cassettes and an ASYA09GACH wall-mount from Fujitsu Air Conditioning (UK).
These new indoor units have been installed onto the existing AirstageTM J-IIS two-pipe heat pump VRF system, which is also from Fujitsu, in the lower deck sleeping quarters. The equipment proved to be so successful that a second, identical J-IIS system was recently installed adjacent to the first.
Currently moored on the river Thames between London Bridge and Tower Bridge, HMS Belfast is part of the Imperial War Museum and welcomes many visitors all year round. The lower deck sleeping quarters are particularly popular, as they are frequently used by students and schoolchildren during educational visits, as well as overnight stays (as part of the 'Kip in a ship' experience). Up to 52 children can stay in this area overnight, where they can immerse themselves in the ship's history by sleeping in real sailors' bunks.
The owners of the vessel identified the ambient temperatures in the lower deck sleeping quarters as too low in winter and too high in summer, so new air conditioning equipment was required in order to adequately heat and cool the areas.
The new compact cassette and wall mounted units were installed by Gravesend-based NBC (Air Conditioning) Ltd, utilising the existing air conditioning pipework on board. The indoor units are now fully operational, supplying the lower deck sleeping quarters with the desired levels of heating (and cooling) as and when required.
Jason Canning, Managing Director of NBC (Air Conditioning) Ltd, commented: "Fujitsu air conditioning units had already been fitted on HMS Belfast previously, so it seemed an obvious choice to replace the existing system with the latest, most up-to-date, energy efficient products. The installation was straightforward, especially as we were able to re-use the existing pipework, so we soon had the space up to the required ambient temperature. I'm also delighted to report the client is pleased with the result and will continue to use Fujitsu for any further upgrades or replacement of air conditioning equipment."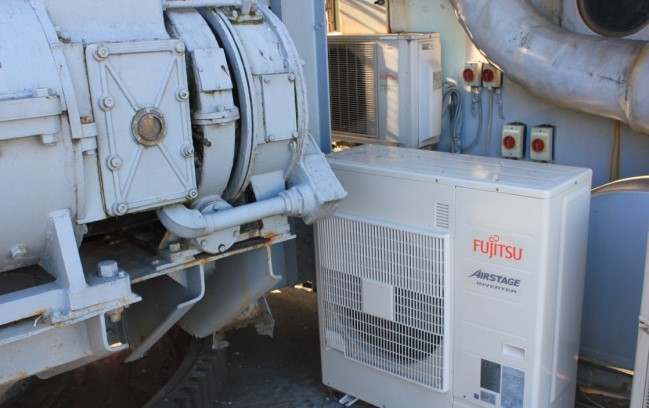 The new air conditioning units have been installed in an open exposed arrangement, ensuring all the cassette units are suspended in the positions of the original models. The original infrared controls have also been replaced by touchscreen versions, which are hardwired to each indoor unit. The controls are set up in a master/slave arrangement, ensuring the two pipe heat pump VRF system can run either in 'all heating' or 'all cooling' mode.
Fujitsu's AUXB18GALH 4-way compact cassette units offer cooling capacities of 5.6kW and heating up to 6.3kW. Elsewhere, the company's ASYA09GACH wall-mounted AC unit boasts 2.8kW of cooling and a heating capacity of up to 3.2kW.