AIRSTAGE MINI-SPLIT BENEFITS

Reliability
There's reliability.

Then there's Fujitsu General reliability.
Fujitsu General AIRSTAGE systems are remarkably reliable: more than 99.99% have never had to be replaced or removed from where they've been installed during the life expectancy of the unit. This exceptionally high rate of reliability stems from Fujitsu General's unrivaled quality control processes, which include a team of engineers and inspectors committed to a simple truth: our products become part of your home and, as such, should be crafted with care and built to last.
Our commitment to quality combines 40 years of HVAC experience with state-of-the-art testing technology. At the Fujitsu General Research & Development Center, a lengthy line of testing equipment pits our heating + cooling systems against a wide range of operating conditions.  This rigorous testing leads to heating + cooling systems that function both reliably and effectively even in extreme temperatures or other inclement conditions.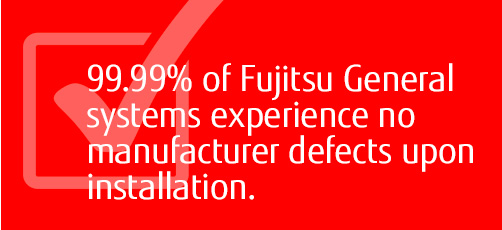 Beyond the mini-split units themselves, Fujitsu General's quality assurance extends to the various features that complement our heating + cooling systems – ones that help ensure the maximum comfort and unsurpassed efficiency for which Fujitsu has become known.  From wireless remote controls and sleep timers to deodorizing filters and four-way auto louvers for air flow direction, we are committed to our specialized functions and supporting devices working as reliably as our heating + cooling systems themselves.