Please be noted that the models introduced here are no longer in production.
The following contents are from the product launch announcement.
Free System (J Series)
Indoor units line up
Indoor units can be selected from 8 types 28 models ranging from 2.15kw to 14.1kw.
System that allows individual air conditioning of multiple rooms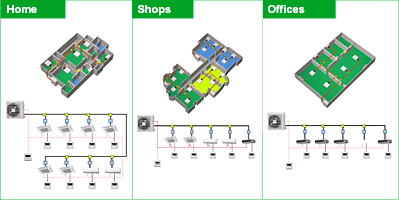 Large capacity connectable
Up to 8 indoor units can be connected. Furthermore, the indoor unit connection capacity can be up to 150% of the outdoor unit rating. This increases design flexibility.

Long piping length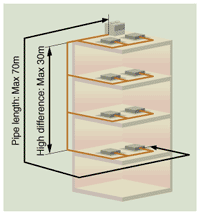 The maximum piping length is 70m, and can cope with a wide range of applications from homes to offices.
All indoor units are supplied with a remote controller
All indoor units come with a wireless remote controller.
Receiver unit is available for duct type indoor unit.