Please be noted that the models introduced here are no longer in production.
The following contents are from the product launch announcement.
J Series
The compact VRF System provides economical and comfortable air conditioning for wide range of applications from living space to business space.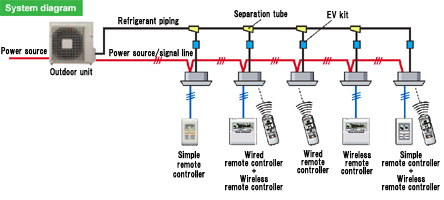 A compact VRF System that responds to the needs of each building
Backed by advanced air conditioning technology, this compact VRF System was developed to meet six key requirements; high efficiency,economy, comfort, convenience, ease of operation, and easy maintenance.
This VRF System delivers a comfortable and economical environment.
J series consists of "Outdoor units", "Indoor units", and "Remote controller (Option)" and "Optional parts (Option)".