Top interview
Our management policy is listed in the form of an interview. (Updated September 2022)
Q1: Can you please tell us about the progress in the Medium-term Management Plan?
A1:
Consolidated net sales for FY2021 increased due to an expanded sales volume of air conditioners for overseas markets and improvement in selling prices. However, profit and loss were significantly affected by soaring prices of materials and parts, ocean freight rates, and the appreciation of the currency of the country of production, and furthermore, a lockdown of the city of Shanghai in March resulted in a supply suspension at the air conditioner manufacturing plants based there.
In FY2022, demand for air conditioners remains strong, especially in Europe and the U.S. In addition, the spread of heat pump equipment has accelerated in Europe amid the trend toward decarbonization, and the Indian market is expected to grow into a major one in the near future. Thus, demand for air conditioners is on an upward trend.
On the other hand, prices of materials and parts and ocean freight rates remain at an unprecedented level, the ongoing shortages of semiconductors and components and logistics stagnation in various industries have not yet been resolved, although they are improving, and there are growing concerns about rising prices against a background of accelerating global inflation, as well as uncertainties in exchange rate trends. We expect that the situation will continue to be severe in terms of cost.
Currently, at Fujitsu General Group we are working on various improvement measures in all aspects of our business activities, but it is difficult to absorb all the rapid cost increases in a short period of time, and although we expect to achieve the sales target for FY2022 that had previously been set, we are forced to review the target figures for operating income.
In order to achieve the plan for FY2022, we regard "Normalization of the supply chain," "Responding to rising external costs," and "Building a foundation for future development" as the three most pressing issues. And we aim to promote the measures set forth in the Medium-term Management Plan, and furthermore, to achieve long-term business growth and development while ensuring risk tolerance under difficult and unpredictable circumstances.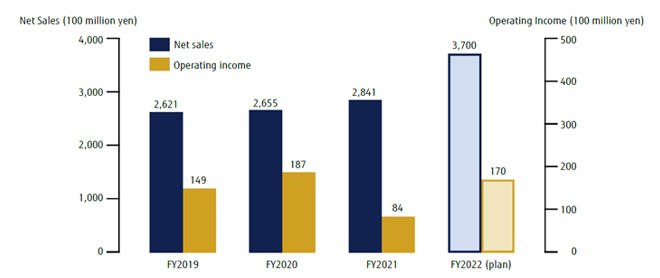 | | FY2019 Actual | FY2020 Actual | FY2021 Actual | FY2022 Plan* |
| --- | --- | --- | --- | --- |
| Net sales | 2,621 Hundred Million Yen | 2,655 Hundred Million Yen | 2,841 Hundred Million Yen | 3,700 Hundred Million Yen |
| Operating income | 149 Hundred Million Yen | 187 Hundred Million Yen | 84 Hundred Million Yen | 170 Hundred Million Yen |
| Operating income margin | 5.7% | 7.1% | 3.0% | 4.6% |
*

Announced on July, 2022
Urgent issues and actions to archive the plan
Normalization of the supply chain
Responding to rising external costs
Building a foundation for future development
Q2: What measures are you taking for the "Normalization of the supply chain"?
A2:
Severely affected by procurement and logistics issues in FY2021, we are focusing on "eliminating concerns about the supply of electronic parts," "responding to fluctuations in demand," and "optimizing and streamlining orders, production, and inventory management" in order to quickly normalize the supply chain.
With regard to "eliminating concerns about the supply of electronic parts," we have made steady progress in expanding our purchasing options by identifying items purchased from a single source and prioritizing the allocation of technical resources to the adoption of alternatives and the diversification of procurement sources. We are also reducing the number of product models to be manufactured by standardizing parts and optimizing the number of items through the expansion of standardized designs. Furthermore, in order to prevent us concentrating on particular EMS vendors, we are diversifying our requirements and making long-term arrangements for parts, and also procuring parts from secondary vendors with whom we have not had direct transactions in the past.
For "responding to fluctuations in demand," we will work to standardize production through integrated production and sales efforts and by using external resources such as ODMs and production contractors, considering the demand forecast and sales methods of the Sales Division. In addition, while air conditioners have been produced intensively in China and Thailand, we plan to entrust local production partners in India starting in FY2022 as an initiative for local production for local consumption to diversify risks, and we will consider local production in Europe and the Americas in the future.
For "optimizing and streamlining orders, production, and inventory management," we are rebuilding our IT infrastructure, including a new production management system, and are working on strategic inventory management by prioritizing inventories of distributors and parts for air conditioners.
Although the supply chain disruption had a significant impact in FY2021, operations are steadily improving as a result of these efforts, and we aim to return to normalcy as soon as possible.
Issues
Measures
Unstable supply of electronic parts
・Expand purchasing options (adopt alternatives, diversify suppliers)
・Reduction in the number of models (standardization design, optimization of number of models)
・Dispersion of orders to EMS, long-term arrangement of parts, and management of secondary suppliers
Responding to fluctuations in demand
・Production leveling at the Thailand factory
・Expand utilization of ODM
・Local production for local consumption for risk diversification
Optimizing and streamlining orders, production, and inventories
・Establish of the new system for production management
・Reconstruct IT infrastructure
・Review inventory strategies (sales subsidiaries, main parts)
Q3: What measures are you taking for "Responding to cost rising to external factors"?
A3:
First, we are moving forward with measures to address the sharp rise in prices of materials, components, and parts. We are working to switch the material used for heat exchangers from copper, which has a high unit price, to a relatively inexpensive material, aluminum. It is already in the final stages of commercialization and we plan to begin sales in some regions in FY2022. In addition, our development, procurement, plants, and overseas R&D divisions will work closely together to reduce costs, including for low-cost inverters dedicated to cooling. In addition, local production in India, as explained earlier, is expected to be effective in terms of reducing costs as well as diversifying risk. In addition to these efforts, we will take all possible measures, such as easing excessive specifications, changing specifications, and improving productivity by promoting IT and automation in development divisions and plants.
Next, with regards to "soaring ocean freight rates," we will work to ensure that the ship space slots secured are used up by taking orders and producing on a container-by-container basis, securing contracted space slots considering shipping plans and freight rates, and curb logistics costs through local production for local consumption.
Since this cost increase is unprecedentedly sharp and far beyond the normal self-help efforts we can do such as reducing costs and improving productivity, we will continue to raise product prices around the world in order to improve profitability.
Issues
Measures
Rising material costs, components costs, and parts costs
・Cost reduction in collaboration with development, procurement, production, and overseas R&D (e.g., shift from copper to aluminum, Tropical Cooling Only Inverter AC, etc.)
・Mitigation of over-specification and specification changes
・Expand purchasing options
・Cost reduction by production in India
・Improvement of productivity by IT, automation, etc.
Rising ocean freight costs
・Arrange orders and production by the container
・Ensuring the allocation of ship space quotas
・Secure contracted space based on shipping plans and freight rates
・Control logistics costs by local production for local consumption
Product price
・Continuously increasing product prices worldwide
Q4: What measures are you taking for "Building a foundation for future development"
A4:
First, for the "Development organization and technology development," we will enhance the productivity of development by utilizing computer-aided engineering (CAE) and product lifecycle management (PLM) as well as promoting standardized design. At the same time, we will strengthen our software development system to expand our solutions business, which is indispensable for building the air conditioner business model we are aiming for.
Next, for "Monozukuri (Manufacturing)," we will quickly normalize operations of production at our Thai plant to realize the benefits of increased production capacity and promote the development of local production in India and Europe. In parallel with this, we will also promote the decarbonization of energy used at each of our plants.
In addition, to enhance company-wide human resource development, we will continue to hire mid-level specialists, and at the same time, promote measures that contribute to the expansion and improvement of human capital, such as the expansion of the functions of the Technical Academy and the development of global human resources.
Issues
Measures
Development organization, Technical development
・Improve productivity by the use of new technologies (CAE/PLM)
・Proceed standardization design
・Strengthen software development organization to support solution business
Production
・Increase production capacity and normalize production at the Thailand factory
・Promote decarbonization of factory energies
・Local production in India and France
Human resources development
・Continue hiring mid-level experts
・Expansion of Technical Academy and continuation of organizational revitalization activities
・Expand program to develop global human resources
Q5: How are the measures to expand sales in the priority markets of North America, India, and Europe, progressing?
A5:
In North America, which is one of our most important markets, we have a very large number of backorders as of the end of FY2021 due to supply chain problems. As deliveries have been delayed, many customers are still waiting for our Company's products to arrive. Shipments are made as they come, but first, this backorder should be resolved as soon as possible.
In addition to this, as environmental awareness rises in the North American market, we will capture the demand to replace fossil fueled heaters with heat pump equipment through the introduction of new products for cold regions. In the U.S., the movement for decarbonization is gaining momentum under the current administration, which we believe is a tailwind for the Fujitsu General Group. We will also continue to develop sales channels through multi-brand development and accelerate collaboration with Rheem.
Furthermore, from the viewpoint of risk diversification, we believe it is necessary to manufacture our products close to where they are consumed, and will consider local production in North America.
Promotion of sales activities to capture growing demand
North America
Early resolution of backorders
Expand our product line-up
Development of models for cold regions
Develop sales channels using a multi brand strategy
Accelerate growing collaboration with Rheem
Consider local production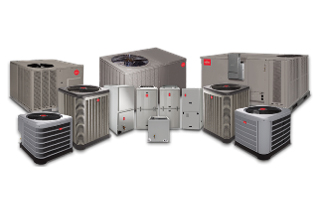 In India, another top-priority market, in FY2021, our Company's sales growth rate was much higher than the market growth rate, resulting in an increase in market share. We will continue to introduce new products, mainly cooling-only inverter air conditioners and expand our sales channels. In addition, as a new production base, we plan to start local production this fiscal year.
Furthermore, ABS, a subsidiary of the Company that develops solution businesses, has been receiving very strong orders, partly due to the expansion of its sales area. As a result, the sales and revenues have grown substantially. We expect to generate significant synergies with product sales in the future.
India
Expansion of local sales
Double-digit growth in local sales under COVID-19
Launching new products and expanding sales channels
Plan to start local production in FY2022
Expansion of solution business
ABS: Double-digit growth and seeking to create synergies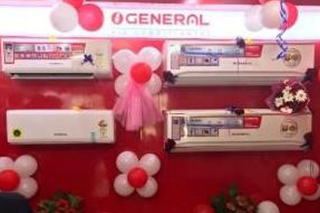 This is the Company's other priority market. In Europe, which is leading the way with its decarbonization policy, shipments of ATW in FY2021 doubled from the previous year, thanks in part to the benefits of subsidy policies for heat pump equipment. While market growth is expected to continue, we will introduce new products jointly developed with our longtime French partner Atlantic, as well as consider local production. In Europe, the commercial market is also expected to recover with the resumption of economic activities, and we will continue our efforts to expand commercial routes with an eye on the solutions business as well.
Europe
Expansion of commercial business
Accelerate growing collaboration with G.I. Holding
Promotion of ATW business
Launch new products by joint development
Prepare local production
Strengthen solution business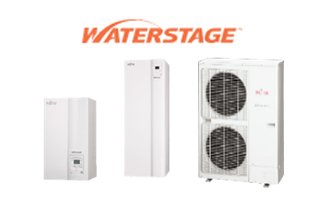 Q6: How are the Information & Communication System and Electronic Devices businesses?
A6:
First, in the Information & Communication System, we expect a slight decrease in sales in FY2022, as our mainstay firefighting and disaster-prevention systems are at the turning point of business negotiations. In the future, we will aim to increase orders by supporting the wide-area expansion of firefighting organizations and promoting product development of new firefighting digital products, which will be fully commercialized around FY2023. As for the disaster-prevention system, we plan to provide new value by utilizing our abundant operational assets, such as flood alerts and proposals for improving the voice quality of wireless broadcasting. In the private-sector business, in addition to the traditional distribution and medical businesses, we will expand our human resources business with an eye to pioneering cutting-edge technology fields such as DX (Digital Transformation) and AI.
As for the electronic devices segment, in the unit manufacturing business, which is the mainstay of our sales, we will promote efforts to secure orders from existing customers for robot controllers and other products, as well as to enhance production- and cost-competitiveness in automation. In the power module segment, which we consider to be a future pillar of our business, we started mass production of IGBT modules for the Company's VRF in 2021. The power module business is new for the Company, but due to the recent shortage of semiconductors, we have received many inquiries. While demand for power modules for EV is strong, there is a shortage for industrial equipment, and we are receiving many inquiries from both new and existing customers, and intend to develop business from a medium to long-term perspective. Sample shipments of modules have also begun with next-generation semiconductor GaN devices, and we will accelerate the development of next-generation devices with superior energy-saving performance.
Information & Communication System
Public systems (Fire-fighting systems, Disaster prevention systems)
Strengthen activities for a wide area of fire-fighting organizations
Develop new products for updating disaster prevention digital radio
Utilize abundant operating assets in disaster prevention systems
Private sector systems
Expand human resources business (develop high-technology fields such as DX and AI)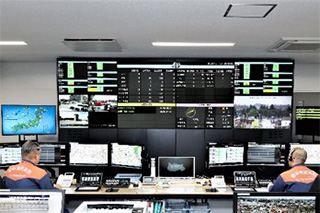 Electronic Devices
Stabilization of existing businesses
Secure orders from existing customers and stable production
Automation initiatives for cost-competitive
Develop new business (power module business)
Start mass production of IGBT module for our VRF
Start to ship samples of the GaN module (develop next-generation models that achieve ultra-high efficiency and ultra-miniaturization)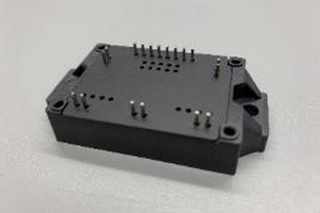 Q7: Can you explain again about the characteristics of Sustainable Management promoted by Fujitsu General?
A7:
In the Fujitsu General Group, our core business is directly connected to the realization of a sustainable society and the more we strengthen our core business, the more we can contribute to a sustainable society, which is a major feature of the Air Conditioners and Information & Communication System and Electronic Devices businesses.
In the case of our mainstay product, air conditioners, the use of products with superior energy efficiency and alternatives to fossil fuel equipment will reduce global carbon dioxide emissions and curb global warming.
Our Group's corporate philosophy, "Our Mission — Living together for our future," aims to solve social issues through our core business, such as minimizing our impact on climate change through innovation and technology. We have responsibilities to provide an environment in which our children, who will lead the next generation, and the generations to come, can live well.
Promoting Sustainable Management based on the three pillars of "1. Harmonious Coexistence with Our Planet," "2. Social Contribution" and "3. Care for Employees" is a process of fulfilling our "Contract with the future," so to speak.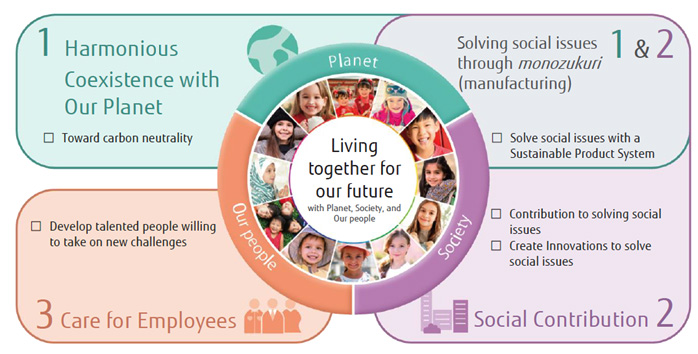 Q8. Under "Harmonious Coexistence with Our Planet," the deadline for achieving carbon neutrality has been moved up to FY2025. Can you tell us about the background to this?
A8:
The deadline for achieving carbon neutrality in our business activities (Scope 1 and 2), which we set in April 2021, was set for FY2030, but after a further review of the plan, we have decided to advance the deadline for this goal by five years to FY2025.
As the background, we have been able to switch to 100% renewable energy as of April 1, 2022 for the electricity used in our business activities. As a result, net zero GHG emissions have been achieved in electricity use at all of our bases worldwide.
We shall promote decarbonization as early as possible in our own business activities, not to mention the contribution we can make in our core business. Given that many European companies have set their carbon neutrality targets around FY2025, we believe that the Fujitsu General Group, which operates globally, should also set its target at FY2025.
Subject
Targets and measures to reduce greenhouse gas emissions
Scope 1, 2(Our business activities)

・Shift to use of renewable energy for all energy used by the Group (achieved on April 1, 2022)
・Shift to use of renewable energy for all other energy used → Achieve carbon neutrality
Scope3
・Our supply network:Reduce 30% by FY2035 compared to FY2018
・Products sold:Reduce 30% by FY2030 compared to FY2013

Q9: How are the sales of Sustainable Product ?
A9:
Sustainable Product are Fujitsu General Group's original certification system. We certify strategic products and services that are expected to solve social issues and contribute to a sustainable society as Sustainable Product and position them as a driving force for the future growth of Fujitsu General Group to expand sales.
Taking Air To Water (ATW) heat pumps as an example, in France, where there are many nuclear power plants and electricity is mainly from renewable energy sources, switching from natural gas-fired heating systems to ATW can be expected to significantly reduce CO2 emissions.
In FY2021, actual sales of Sustainable Product amounted to 40 billion yen, accounting for about 14% of total sales. Sales of cooling-only inverter air conditioners in India, and ATW grew significantly, nearly doubling from 22.0 billion yen in the previous year.
At present, seven products have been certified as Sustainable Product, and we will continue to invest heavily in new product development, market development, and other activities related to Sustainable Product, aiming to have them account for 30% or more of total company sales by FY2030.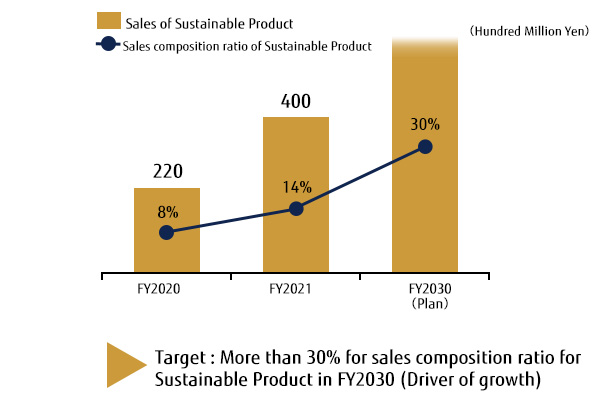 Sustainable Product

Definition :
Strategic products and services certified by the Company are expected to contribute to a sustainable society by solving social issues
Sustainable Product Gold

Definition :
Products and services that are Company- certified Sustainable Product and are recognized as contributing to sustainable development to a certain degree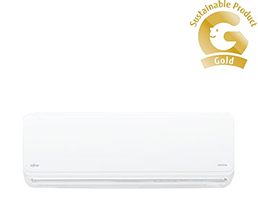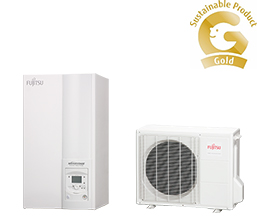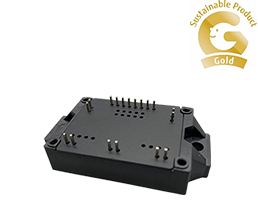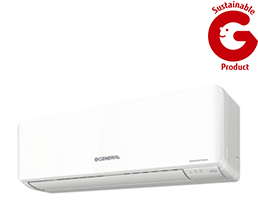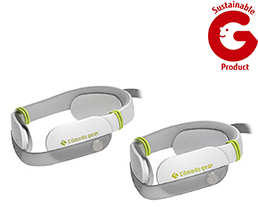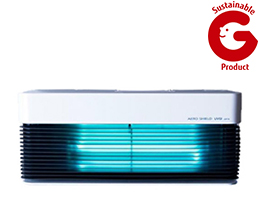 Q10: Are there any new initiatives under "Social Contribution"?
A10:
To summarize, we believe our contribution to society can be divided into "social contribution through our core business" and "social contribution as a member of society."
In "social contribution through our core business," all businesses of Fujitsu General Group are closely connected to People and Society and we will provide better values in these aspects by pursuing our core business.
As for "social contribution as a member of society," we have been engaged in various activities so far, but we have newly formulated the "Basic Policy for Social Contribution Activities" and decided to strengthen our efforts. While respecting our existing activities, we will focus on supporting social contribution activities participated in by employees in accordance with this Basic Policy for new social contribution activities to be launched in the future.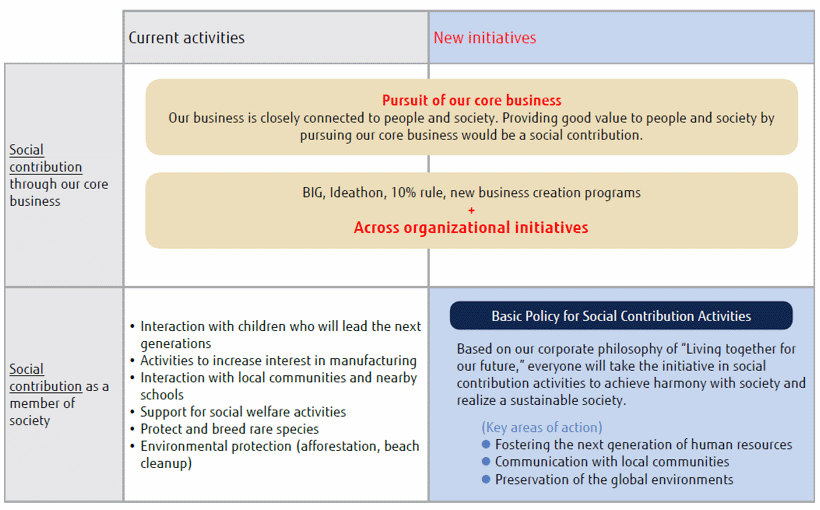 Q11: What measures are you taking for "Care for Employees"?
A11 :
The "Fujitsu General Group Declaration of Employee Wellness" was announced in July 2017, and our Health Management has entered its 6th year. While the COVID-19 pandemic restricts face-to-face activities, we are working to create a workplace where employees can remain healthy and energetic and improve their productivity and motivation through various approaches.
There has also been a steady increase in assistance and collaboration for families supporting employees' health and with companies and organizations seeking to introduce Health Management.
In addition to the promotion of Health Management, we intend to strengthen our efforts to support employees' "spontaneous career development and learning."
Needless to say, the fundamental source of the Company's competitiveness lies in our employees. In addition to strengthening English language skills with the aim of developing global human resources, we will improve communication skills, logical thinking, DX literacy, and other skills so that each employee can proactively think about their future vision and be active in this uncertain and competitive era.
Accordingly, we will continue to develop an environment in which each employee can hone and improve their own skills.
Fujitsu General Group promotes Health Management, in the belief that only when employees have a healthy and vigorous workplace can we develop human resources who are willing to work spontaneously.
Defining Health Management as "the strategic realization of health measures for the achievement of sustainable business growth," our Group makes it clear that "employee health is a valuable asset for management" in order to promote and strengthen "valuing and investing in our people," as stated in our Corporate Philosophy and Medium-term Management Plan. We are working to create a healthy and vibrant workplace as a comfortable and rewarding place to work and improve the motivation and overall strength of all employees.

Pursue the realization of well-being
The Health Management of Fujitsu General Group not only promotes the health of employees, but also provides support to families who support our employees and companies and organizations that aim to introduce Health Management. We will contribute to local communities and pursue the realization of Well-being also through support to stakeholders.
Support for the creation of safe and secure workplace (Creating a workplace with high psychological safety)
Beyond the acquisition of health information, conduct training that enables employees to become aware of their own health and change their behavior
Expand health support to employees at overseas and domestic offices and Group companies
Hold walking and other health events in which families can participate, and provide health information
Introduce internal health support practices outside the company to support Health Management activities in society
Co-creation of new measures and contribution to local communities through joint projects with local companies, industry-academia-government collaboration, etc.
Q12: FY2022 will mark the end of the Medium-term Management Plan. What is your vision for the management policy for FY2023 and beyond?
A12 :
There is no change in the major policy of promoting the Core strategic themes and Sustainable Management that we are working on in the current Medium-term Management Plan, and we will continue to strengthen them. Although we are in a temporarily difficult situation due to supply chain disruptions and external cost increases, various measures are imperative and we are making steady progress in strengthening our resilience to fluctuations in external factors. In addition, sales growth in the top-priority markets of North America and India, as well as orders for ATW in Europe, which is expected to contribute to decarbonization, remain strong. We believe that if we clear the most pressing issues and further strengthen our corporate structure, we will be able to achieve even greater expansion of our business scale and increase profitability.
In addition to these efforts, new initiatives will be taken under the themes of "Becoming a truly global company," "Growth of employees," and "Branding activities" as part of our corporate culture transformation, aiming to put our Corporate Philosophy into practice and achieve profitable growth.