Community Involvement and Development

Promotion of Coexistence with Local Communities
Approaches to community involvement and development
The Fujitsu General Group considers the "Promotion of Education for the Next Generation" and "Promotion of community coexistence" to be key issues for community involvement. We wish to convey the excitement of product creation and manufacturing to children who will lead the next generation, and nurture human resources who will be involved in manufacturing in the future. In addition, by holding various events for local residents, we aim to play a role in the development of local communities.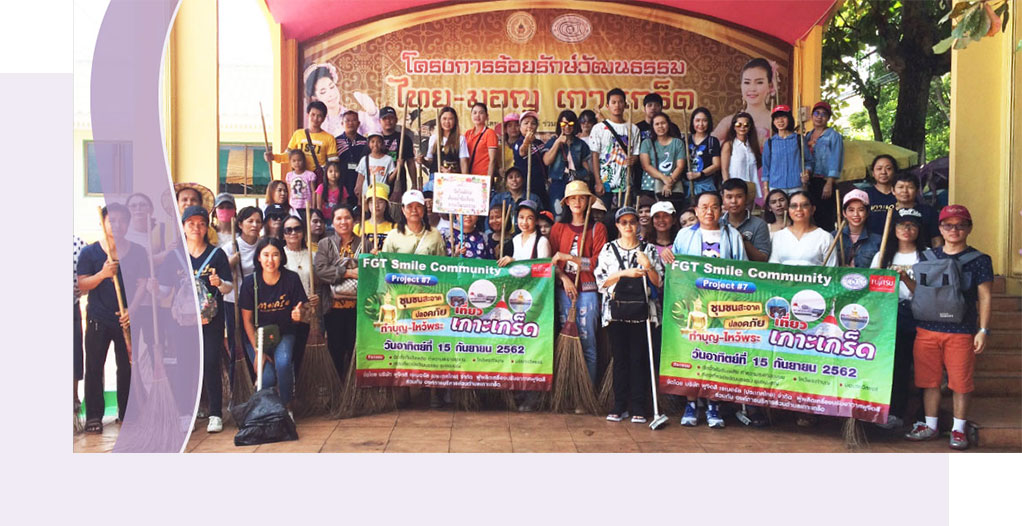 Local cleanup activity
Fujitsu General plants (Kawasaki Headquarters, Matsubara, Hamamatsu, and Aomori plants) and Fujitsu General Electronics Co., Ltd. regularly conduct cleaning activities to contribute to the community by promoting aesthetic awareness of the surrounding areas.
Our manufacturer in Thailand, Fujitsu General (Thailand) Co., Ltd. conducted in January 2021 a coastal cleanup activity near the plant with about 100 employees.
Protecting and nurturing rare species (Kawasaki Headquarters and Hamamatsu Plant)
With the guidance of a local university, Fujitsu General Hamamatsu Plant opened a 3,000 ㎡ biotope on its premises in 2014 and has been conducting conservation activities for the rare species of Tanakia lanceolata (a freshwater fish) and Pronodularia japanensis (a mollusc), which are designated as endangered by the Ministry of the Environment and Class IA in the Shizuoka Red Data Book.
With the guidance of an NPO, our Kawasaki Headquarters is also involved in the conservation and propagation of Calanthe discolor Calanthe, a rare plant designated as a quasi-endangered species by the Ministry of the Environment and as an endangered species II by Kanagawa Prefecture. In FY2020, the number of their pots were increased to ten from five.
Afforestation (Fujitsu General (Thailand) Co., Ltd.)
Our manufacturer in Thailand, Fujitsu General (Thailand) Co., Ltd. had nine employees participate in a tree-planting activity organized by the industrial park in which the company is located in September 2020.
The participants planted seedlings with elementary school students on the day.
Participation in the CEO Sleep Out (Initiatives at Fujitsu General (Aust.) Pty Ltd.)
In this event—an activity to provide assistance for people who are homeless due to poverty—CEOs spend a night outside during the winter, and then share their experiences and raise funds for the cause.
Philip Perham, the CEO of Fujitsu General (Aust.) Pty Ltd., our Australian sales company, has participated each year since 2018, and did so again in June 2020.
We raised funds from our employees and partner companies in Australia and New Zealand, and donated a total of 19,000 AUD to CEO Sleepout in FY2020.
Dialogue with Local Governments, Local Businesses, and Community-based Organizations (Kawasaki Headquarters)
Since 2014, we have participated in the Eco City Takatsu promotion project organized by the Takatsu Ward of Kawasaki City, where our Kawasaki Headquarters is located, to exchange ideas with local citizens about what Takatsu will be like in 100 years.
Open gymnasium
The gymnasium owned by Fujitsu General's Health Insurance Association has been open to local citizens for more than 40 years. Citizens use this facility for activities including basketball, futsal, and badminton.
Relevant Information (Links)