Environment : Activities for reducing our own environmental burdens

Biodiversity conservation

Recognizing that corporate activities benefit from the riches of the Earth's biodiversity while at the same time impacting it, the Fujitsu General Group will work to conserve biodiversity and utilize natural resources in a sustainable manner.
Fujitsu General Group Biodiversity Action Principles
In order to specifically tackle biodiversity under the Fujitsu Group common philosophy, we rearranged the "Fujitsu Group Biodiversity Conduct Guidelines" of Fujitsu Limited for Fujitsu General and formulated the "Fujitsu General Biodiversity Action Principles" in 2012.
Afforestation activities
Fujitsu General Group is working on the conservation of a sustainable natural environment through afforestation and Satoyama (Village) activities.
FUJITSU GENERAL (THAILAND) CO., LTD. holds every year an event aimed at promoting interchange between employees and their families through social contribution activities. In FY2017, we planted 2,000 seedlings of broadleaf trees and fruit trees altogether in the Bang Lamung Nature Reserve.
FGA (THAILAND) CO., LTD. participated in the afforestation activity sponsored by the industrial estate where the office is located and planted tropical flower tree "Golden Shower Tree".
Afforestation activities
Top : Afforestation activity at FUJITSU GENERAL (THAILAND) CO., LTD.
Bottom : Planting of "Golden Shower Tree" at FGA (THAILAND) CO., LTD.
Fujitsu General Group Biodiversity Action Principles
Fujitsu General Group participates in regional activities to conserve the water resources around our business sites.
Matsubara Business Office participated in the "Yamato River/Ishi River Cleanup Strategy" sponsored by the Osaka Prefecture River Environmental Department. 23 people, mainly our employees, participated in the activities and collected garbage such as plastic pieces and empty cans. The water quality is improving and trout have been moving up to this river since several years ago.
"Yamato River / Ishi River Cleanup Strategy" at Matsubara Business Office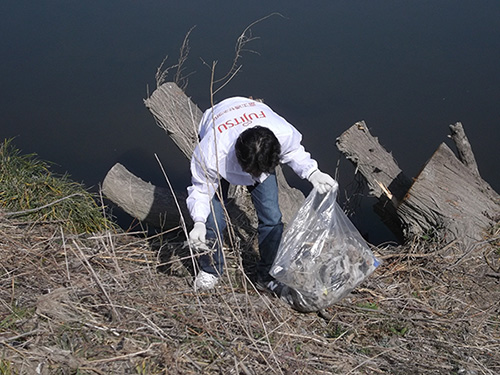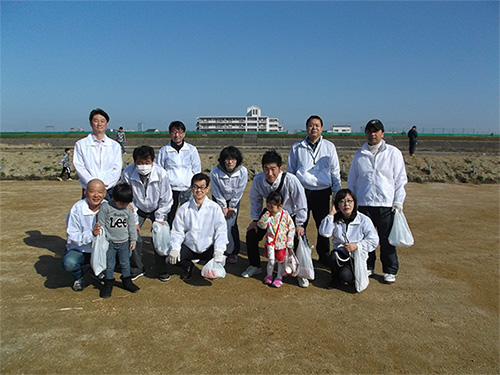 Establishment of ecosystem network with biotope
Hamamatsu Business Office opened a biotope in the green area of the premises in FY2012 and are maintaining it. In the biotope, many animals and plants such as Sparganium fallax Graebn. (RL 2017 endangered species II in Shizuoka Prefecture), Patrinia scabiosifolia Fisch. ex Trevir., Cercion calamorum are inhabiting and growing.
Also, by thinning out too many plants and removing alien species, we are improving the environment that can bring in native species inhabiting around the biotope.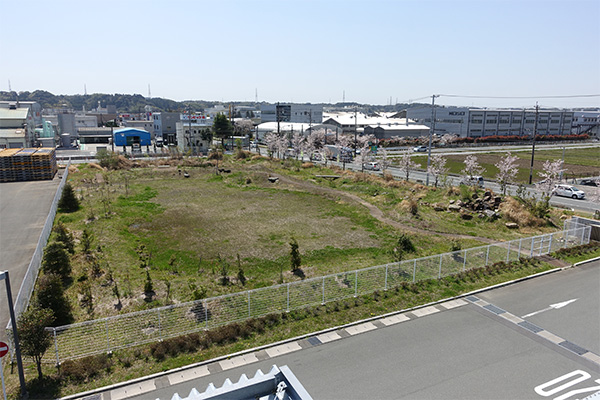 Fauna and flora inhabiting and growing in the biotope are introduced in the following page.