Core Technology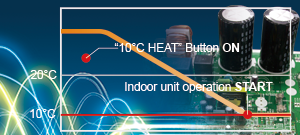 High Efficiency
Optimized Inverter Control
I-PAM (IPM*+PAM) inverter control
I-PAM inverter control is a technology which reduces loss by adjusting the current waveform to a better sine waveform.
This promotes the effective use of the input power supply to attain high performance.
V-PAM (Vector + I-PAM) inverter control
V-PAM inverter control reduces the effects of magnetic flux and increases the maximum speed and efficiency of the compressor by vector control technology. With this technology, further miniaturization, higher efficiency, and better performance are attained.
High Efficiency Heat Exchanger
High density multi-path heat exchanger
Heat exchange performance is substantially improved by thin and high-density heat exchanger and multi-path efficiency technology.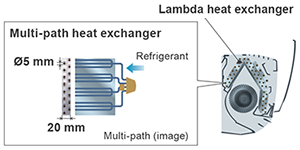 Energy Saving Control
Smart Operation
Human sensor control
Human sensor catches movements of people in a room, and operates with lower capacity when people leave the room. When people come back to the room, it automatically returns to the previous operating mode.
Human sensor coverage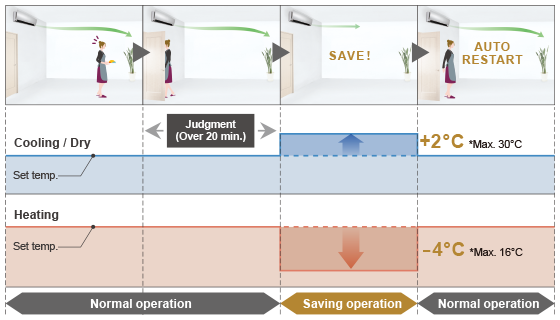 Room temperature set point limitation
The minimum and maximum temperature range can be set giving further energy saving while considering the comfort of the occupants.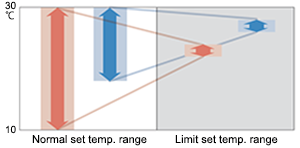 Auto-off timer
The indoor unit is turned off automatically when it reaches to the preset operating time frame.
The time frame of the "Auto off timer" can be flexibly scheduled.
Off time can be set from 30 to 240 minutes.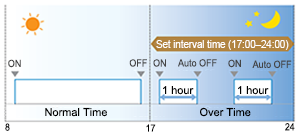 Example:

At interval time hour (17:00 - 24:00) to prevent forgetting to turn off Set off time : 1 hour
Set temperature auto return
The setting temperature automatically returns to the previous setting temperature.
The time range in which the set temperature can be changed is 10 to 120 minutes.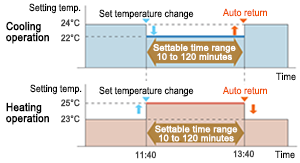 Comfort Performance
Powerful Heating
High heating capacity is realized even at low outdoor temperature by mounting a large heat exchanger or large DC rotary compressor and developing high performance inverter PCB.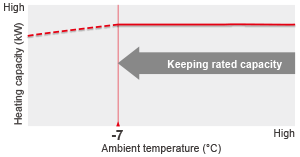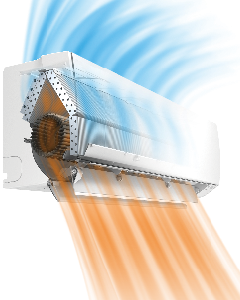 Quick Comfort
Comfort airflow
Precision wind direction control is realized and ventilation efficiency is also improved by 3 technologies.
Our airflow control makes your environment more comfortable.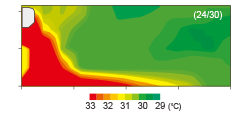 Powerful operation
Continuous operation by maximum airflow and maximum compressor speed after a certain period of time allows the temperature to reach the setting temp. quickly.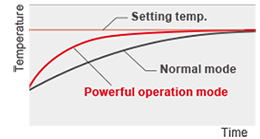 10°C Heat operation
When you leave, minimum heating operation is performed to maintain the room temperature. (Maintained at 10°C)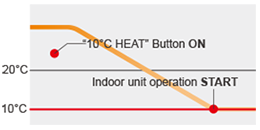 Quiet and Comfort Control
Outdoor unit low noise operation
Users can choose low noise levels, depending on the installation environment.
The operation time can be set using the timer.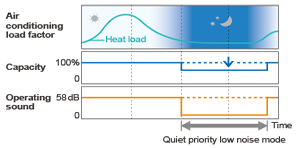 Auto changeover function
At Auto setting, the cooling / heating mode is automatically switched according to the set temperature and room temperature.
Smart Design
Pursuit of advanced design achieving both functionality and beauty.
Fujitsu General provides its customers with highly functional air conditioners designed with high artistic sensitivity.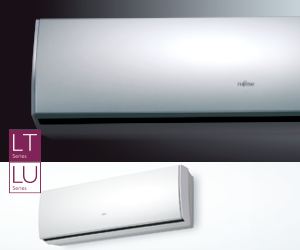 Easy-To-Use Control
Easy air conditioner control from inside or outside the house using the Smartphones, Tablets, and PC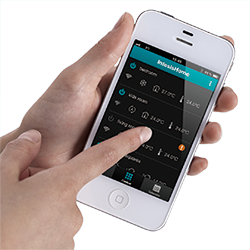 It is the most advanced solution to remotely manage an Air Conditioning system using all sort of mobile devices such as Smartphones, Tablets, and PC.
Fujitsu General provides an interface that supports central management systems such as KNX®, MODBUS®, BACnet®, and LONWORKS®.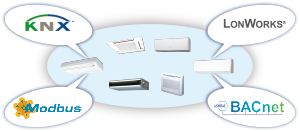 Fujitsu General provides various easy-to-use Controllers
Fujitsu General is using ergonomics to expand the use of easy-to-use designs such as easy-to-read large LCD panels, easy-to-operate buttons, and displays with easily recognizable icons.
The individual controllers match the user operational environments, and the home controller makes batch energy saving management easy. Ease of use was pursued using simple operation buttons, a large LCD screen, and other features.

Related Links
Downloads
Contact