PRESS RELEASE
October 16,2008
Fujitsu General Limited
(NO.08-Y08-24)
Integrating all consolidated subsidiaries in Japan for acquiring ISO14001 certification

Strengthening further efficient and effective environmental activities
Our company, getting hold of environmental protection activities as important challenge of corporate management, is pushing forward business activities aiming to harmonize the contribution to global environmental protection with corporate activities. As part of the activities, we are endeavoring to integrate our consolidated subsidiaries to acquire the certification with regard to ISO14001, international standard of environmental management and audit, in order to realize "high quality environmental policy by centralized management", "speedy response to environmental problems by sharing information" and "cost reduction by efficient operation".
By adding 2 subsidiaries which have not been consolidated so far, we integrated all 14 subsidiaries in Japan for ISO14001. The newly consolidated subsidiaries are Fuji Ecocycle Ltd. (recycling business subsidiary) and Fujitsu General Information Ltd. (commercial system product sales subsidiary), and on October 8, we acquired the certification from Japan Audit and Certification Organization for Environment and Quality (JACO) for all domestic FG group including the two subsidiaries. (Certificate No.EC99J1163)
By this integration, we will strengthen the governance from environmental standpoint by adopting company-wide environmental policy including the newly consolidated subsidiaries in addition to the activity by each subsidiary. Furthermore, we will promote the activities with synergy effect in drawing up and implementing the environmental plan at each subsidiary by expanding the information sharing with regard to environmental activities.
We will aim to enhance the total environmental readiness of Fujitsu General group by promoting the environmental consideration in business activities such as purchase of parts and materials, designing, development, production and recycling of products including environmental measures, material-saving and energy-saving operation, reduction of waste materials in the whole life cycle of products.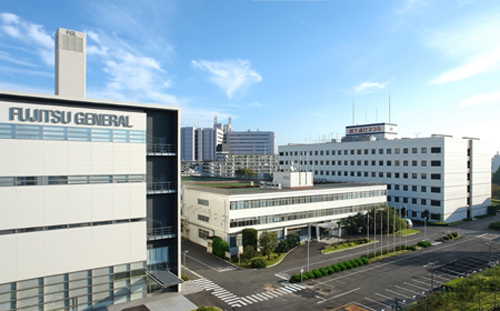 Head Office of Fujitsu General Limited
Reference
1. About Fuji Ecocyle Ltd.
Company name:

Fuji Ecocycle Ltd.

Location:

3507-19, Yamamiya, Fujinomiya, Shizuoka, Japan

Establishment:

April 7, 2000

Capital:

200 million yen

Line of business:

Recycling business of used home electrical appliances, OA appliances and mechanical products.
2. About Fujitsu General Information System Ltd.
Company name:

Fujitsu General Information System Ltd.

Location:

2-3-31, Shibaura, Minato-ku, Tokyo, Japan

Establishment:

May, 1946

Capital:

60 million yen

Line of business:

Sales of fruits and vegetables sorting, shipment and production information system, OA appliances, supply products, etc.
Contents in each releace are at the time of release.
These contents are subject to change without prior notice.