Environment : Environmental Management

Environmental education / enlightenment activities
Environmental education and enlightening system for employees
Fujitsu General Group conducts systematic environmental education and enlightenment in order to promote the enhancement of environmental awareness and positive activities for environment.
Environmental enlightenment activities
Fujitsu General Group holds lecture meetings to improve employees' environmental awareness.
At the head office, we endorse the purpose of the activity of "Kawasaki Eco-drive Declaration" promoted by Kawasaki City where the head office is located and conducted an eco-drive seminar for employees of sales and service departments who use company car for business and made a "Kawasaki Eco-drive Declaration" in May, 2017.
We are conducting the enlightenment activities widely inside and outside the company such as by putting eco-drive sticker on the company shuttle bus and company cars in Kawasaki area.
Environmental enlightenment activity
Eco-drive lecture meeting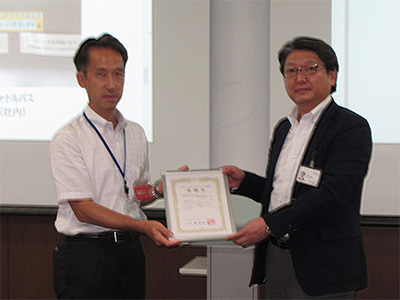 Kawasaki Eco-drive Declaration Certificate reception ceremony

Environmental professional education
Fujitsu General Group conducts environmental professional education for employees engaged in environmental work.
In FY2017, we conducted the education specialized in the revision of standard of ISO14001 (2015 edition) for employees engaged in environmental matters of each department. Also, we conducted training by external lecturer for the purpose to train internal auditors and improve their skill.