Community Involvement and Development

Promotion of Education for the Next Generation
Approaches to community involvement and development
The Fujitsu General Group considers the "Promotion of Education for the Next Generation" and "Promotion of community coexistence" to be key issues for community involvement. We wish to convey the excitement of product creation and manufacturing to children who will lead the next generation, and nurture human resources who will be involved in manufacturing in the future. In addition, by holding various events for local residents, we aim to play a role in the development of local communities.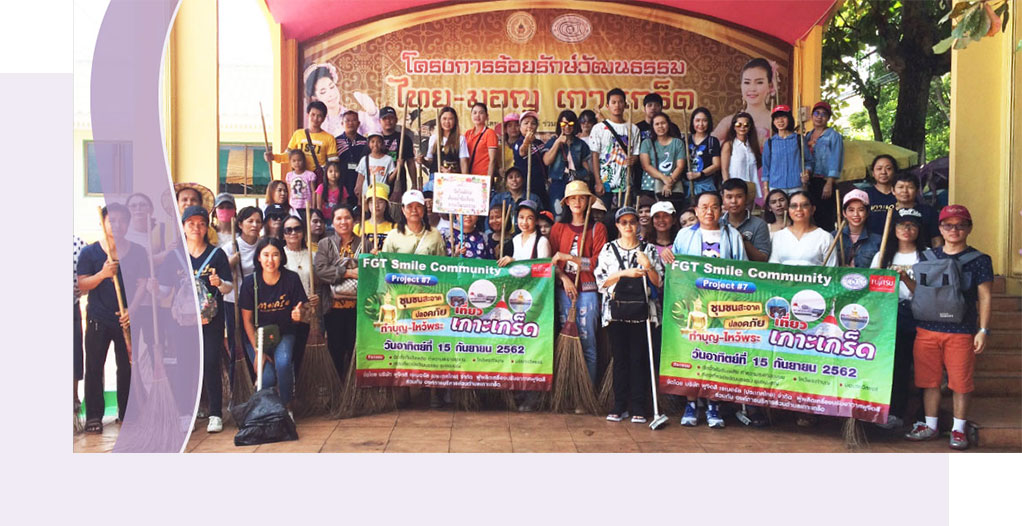 School field trip "Exploring our Town"
In January 2021, we conducted a school field trip for 2nd graders of the neighboring elementary school, which included introducing Fujitsu General's outdoor advertisement, observing the scenery from the Kawasaki Headquarters rooftop, visiting the Jihatsu (meaning spontaneous) Hall* where they could learn about our company's history, and going on a tour of air conditioners sold around the world in the showroom. We received opinions from children such as "I want to come back for another tour" and "It was fun to see air conditioners sold overseas."
*

The hall, which opened on February 1, 2018 at Kawasaki Headquarters, displays the history of the Company since its founding and the innovative products introduced.
Career education "Look into Yourself, See the Future"
In February 2021, Fujitsu General Group employees visited the neighboring elementary school to give lectures to 6th graders as part of their career education to think about work.
On the day, the lecture focused on the stories behind the development of the industry's first "heating sterilization of heat exchanger" function and the "TV commercial production" of our Company.
We received comments from the children such as, "It looks like hard work, but gives a lot of joy," and "I look forward to seeing the commercials back home."
Accepting interview requests from high school students
In November 2020, some first-year students of a public high school in Tokyo asked to interview us as part of their classwork.
Their assignment was to interview working adults in order to form perspectives on jobs and work and consider how they want to live and who they want to be in the future. The aim of having them interview people from different generations and stations in life was to improve their communication skills.
Students with an interest in electronics and electricity, who were also interested in Fujitsu General questioned our engineers on topics such as why they chose our company, and the company's strengths and weaknesses.
Exchange with neighboring elementary school
We are deepening exchange with the elementary school located directly across the street from Fujitsu General Kawasaki Headquarters by placing messages such as "Congratulations on your graduation" and "Good luck with your work" on the window panes.
Plant study tours (Fuji Eco Cycle Co., Ltd.)
Fuji Eco Cycle Co., Ltd. at Fujitsu General Group company engaged in electric home appliance recycling, has been conducting factory tours.
Tour participants can learn about home appliance recycling by observing the processes by which appliances in four categories (air conditioners, refrigerators, washing machines, and TVs) are disassembled and recycled.
Our crusher smashes familiar appliances like air conditioners and refrigerators to pieces in a matter of 10 seconds. Although participants are unable to see the device in action, they are fascinated by the monitor that shows its inner workings.
In FY2020, we suspended plant study tours from April 3 to June 22 due to the spread of COVID-19.
Later, we resumed the tours with the maximum set to 20 participants as a measure for preventing infections. Throughout the year, we provided tours for a total of 83 visitors from organizations including nearby schools and NPOs.
Acceptance of students from special needs schools for workplace experience (Fujitsu General Heartware Ltd.)
Based on the company's philosophy to help employees with disabilities to work with a sense of purpose and genuinely feel they are contributing to society, Fujitsu General Heartware Ltd. actively accepts people with disabilities living in the area around the Kawasaki Headquarters to provide them with workplace experience training and company tours so as to help them enjoy their work.
Relevant Information (Links)