AIRSTAGE VRF Systems

Common Features
Economy operation

Economy operation can be set by remote controller. The temperature setting is offset automatically over a certain period of time.
Room temperature set point limitation
The minimum and maximum temperature ranges can be limited, which provide further energy saving while maintaining the comfort of the occupants.
Auto-off timer
The indoor unit turns itself off when a specified length of time has elapsed after the timer is activated.
A desired time frame can be specified for the Auto-off timer.
Capacity saving mode
Operation capacity can be reduced in 5 steps from the rated capacity. This mode cuts down on peak power consumption and eases the maximum load on the unit.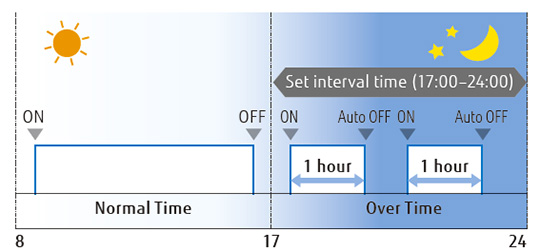 Precise control of refrigerant flow
The combination of DC inverter control and individual control of electronic expansion valves of an indoor unit enables the precise and smooth control of the refrigerant flow. The benefit is the ability to set the room temperature up or down in 0.5°C increments.
Auto changeover
The air conditioner switches between the cooling and heating modes automatically according to the set temperature and the room temperature.
Quiet operation
Two low noise modes can be switched automatically between the one in which low noise is prioritized over performance and the other in which performance is prioritized over low noise, depending on the room temperature and outdoor temperature. This feature can be controlled by an external input from the outdoor unit or a system controller.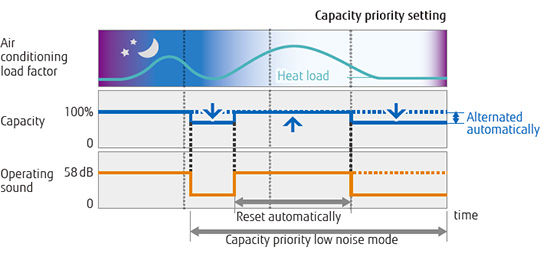 Design Flexibility
Overall piping length 3,280 ft.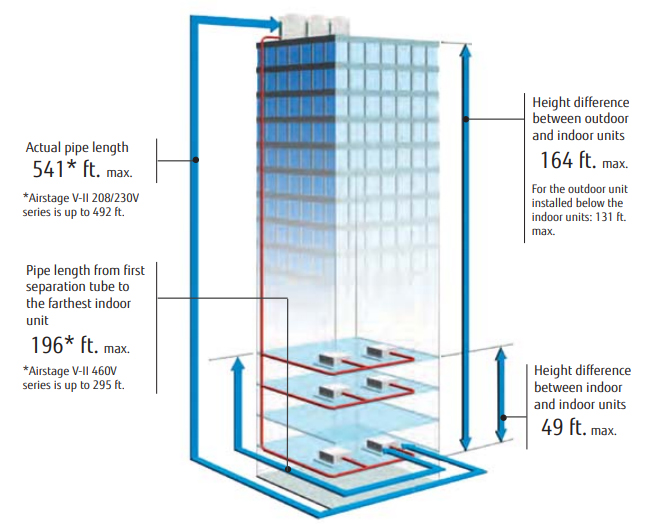 World's longest total pipe length 3,280 ft. max
AIRSTAGE VR-II Series
Capacity range of connectable indoor units

50 to 150%*5

Max. number of connectable indoor units

64
AIRSTAGE V-II Series Heat Pump Modular Type
Capacity range of connectable indoor units

50 to 150%*5

Max. number of connectable indoor units

48
AIRSTAGE V-III Series Heat Pump Modular Type
Capacity range of connectable indoor units

50 to 150%*6

Max. number of connectable indoor units

64
AIRSTAGE J-III Series Heat Pump Type
Capacity range of connectable indoor units

50 to 150%*5

Max. number of connectable indoor units

13
AIRSTAGE J-IIS Series Heat Pump Type
Capacity range of connectable indoor units

50*7 to 130%*5

Max. number of connectable indoor units

8

*5:

Conditions for the maximum capacity ratio of connectable indoor units are shown in the chart above.

*6:

The maximum capacity of the combination that includes the 18-HP outdoor unit is below 150%.

*7:

46% for the 4-HP model
Wide operating temperature range
All outdoor units have a wider operating temperature range and can operate in extreme temperature conditions.
J series Heat Pump type *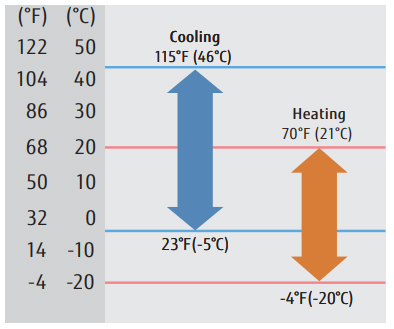 V-II series Heat Pump type *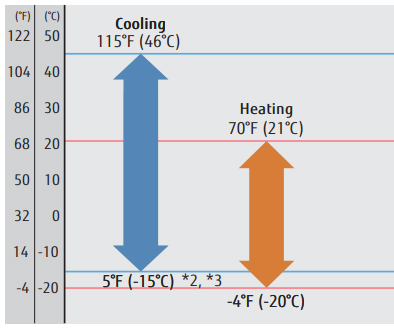 VR-II series Heat Recovery type
*:

VRF Heat Pump system operates in non-simultaneous heating or cooling.
Life-extending operation*1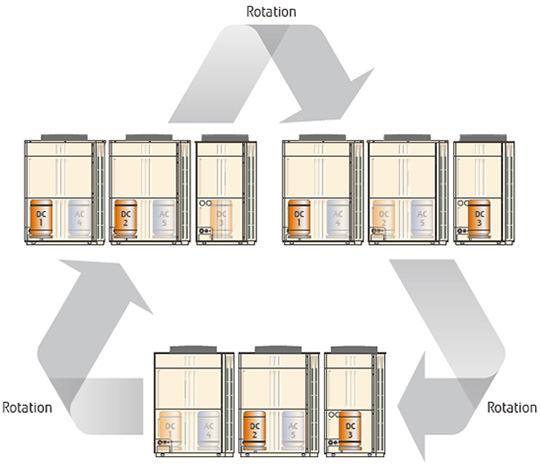 Compressors are set to start operating in rotational order to equalize the cumulative running time of each unit.
*1.

The start and stop timings are alternated among connected compressors.
Protection against liquid flowback
A large accumulator captures not-yet vaporized refrigerant to prevent liquid refrigerant from being fed into the compressor.
Blue fin heat exchanger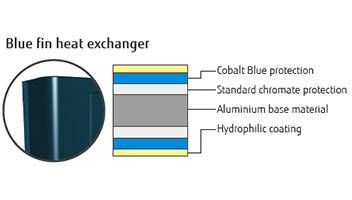 The corrosion-resistant blue fin treatment is applied to the heat exchanger of the outdoor unit.
Backup operation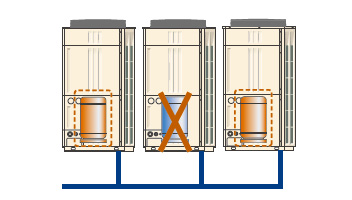 If one compressor fails, the remaining compressors will initiate backup operation*2.
*2.

Backup operation may not work for all types of failures.
Advanced refrigerant control*3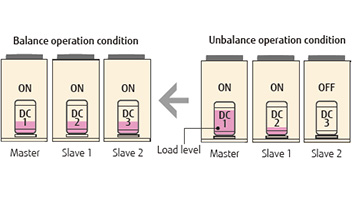 A compressor control logic controls the inverter speed to balance the mass airflow rate of refrigerant in each outdoor unit.
*3.

Not available for the AIRSTAGE J-III or J-IIS Series
Great transportability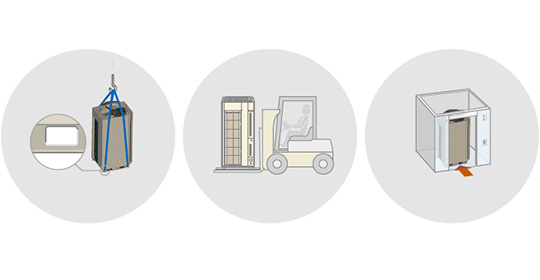 A lifting strap can be hooked to an outdoor unit for use with a crane.
The outdoor unit can be lifted and transported by forklift.
It fits into a small elevator.
Easy access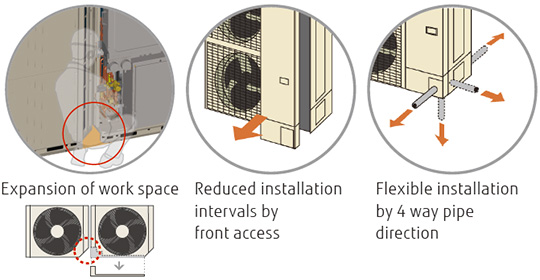 The removable L-shaped front panel provides more room for installation and service work.
Multiple installations can be performed easily and efficiently even in tight spaces.
Simple wiring work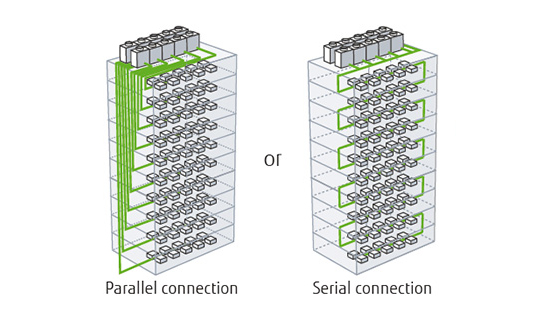 Up to maximum length 11,811 ft.
Installation of the wiring systems is made easier as the communication wiring can be installed continuously between the indoor, outdoor and RB units.
* The automatic address setting is not available on a serially connected multiple refrigerant system.
Automatic address setting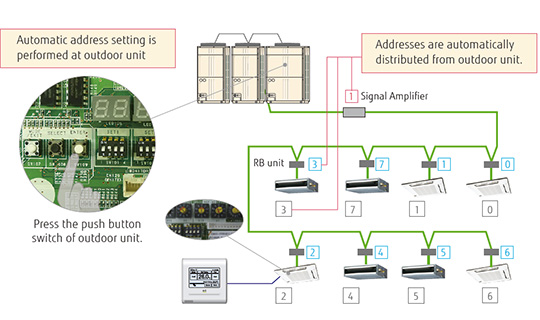 Addresses of connected indoor units, RB Units, and Signal Amplifier can all be set automatically from the PCB in the outdoor unit.
Addresses can be set manually from an indoor unit or a remote controller.
Easy service and maintenance
Movable PCB panel

Enables easier access behind the PCB for maintenance work.

Easy-to-read 7-segment LED

Shows the following operation and error status without using any special tool:
System operation mode
Discharge temperature and pressure
Compressor operation status
Address, error code, and the number of errors of an indoor unit in trouble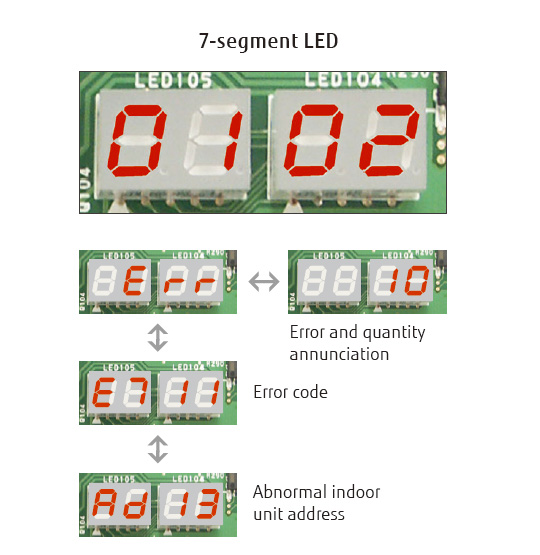 The error status can be checked on an outdoor unit's display.
The error status can be checked via a Wired Remote Controller for indoor units.
An error code is displayed on an LCD screen.
Wired Remote Controller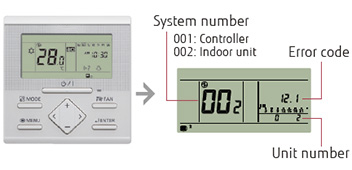 Simple Remote Controller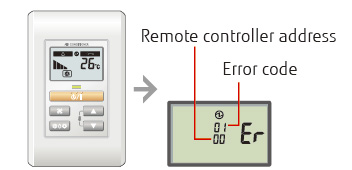 Wired Remote Controller with touch panel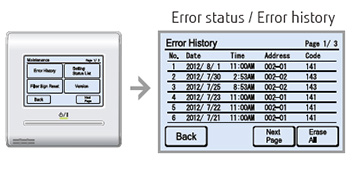 Error diagnosis by the Service Tool software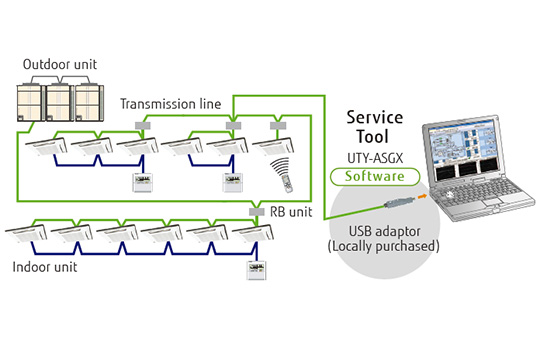 Connection to the Service Tool software
A detailed operation status and recent error history can be checked and analyzed with Service Tool.
The last 5 minutes of operation status can be saved continuously.
Remote monitoring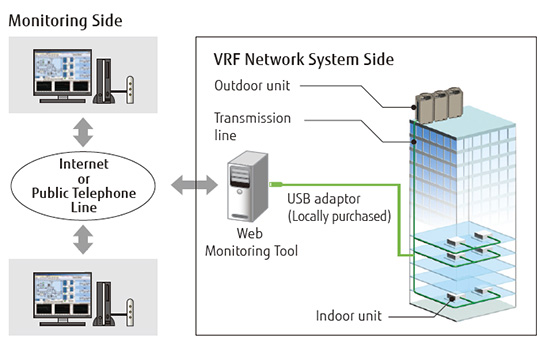 The Web Monitoring System enables the monitoring of the system's operation status at any time via the Internet to ensure trouble-free operation.
The VRF network system operating in a building can be monitored in real time via the Internet.
New intelligent refrigerant control
Fujitsu general proposes New outdoor unit which includes New refrigerant control. New refrigerant control can be operated with suitable control corresponding to heat load of the room and can offer a more comfortable space. New refrigerant control can also provide more energy savings.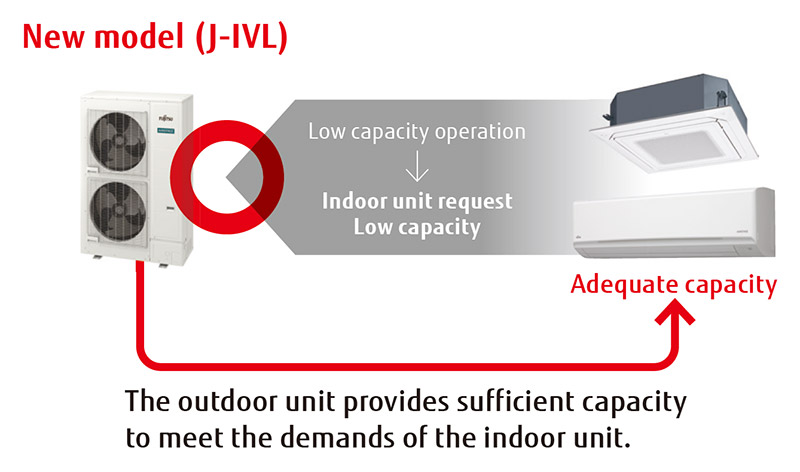 Room temperature maintains set temperature using the thermostat on/off. Energy savings is improved through the continuous operation of the compressor.
Enhanced static pressure capabilities
External static pressure is available up to 0.24 in. W. G.(60 Pa). (J-IIIL) Since it can be installed indoors or in hidden places such as louvers, the range of proposals can be expanded compared to conventional products.

Expanded heating operation range (J-IVS/J-IV)
Corresponds to heating operation at -15˚F(-26˚C) outdoor temperature. This product can be used in colder areas where conventional products could not be installed.

Base pan heater comes standard and is specifically designed for better drain management (J-IVS/J-IV)
Base heater is added to prevent drain water from freezing under low outdoor temperature. More water discharge holes are added to the base pan to prevent water accumulation inside chassis base.
Wiring to CSA standard -22°F (-30°C) compliant (J-IVS/J-IV)

Breaker size optimized (J-IVS/J-IV)
The new system is capable to be installed with smaller circuit breaker size. Since the smaller circuit breaker size leads to the lower cost of electrical wire and circuit breaker itself, the overall installation cost may be reduced. In addition, the system is compatible to smaller circuit breaker size down to 20A by local setting, which enables an installation to apartments with small circuit breaker size.​ The variable circuit breaker compatibility enables the installation to various type of building with different power supply condition.
Maximum circuit breaker setting (J-IVS/J-IV)

*

Since the running current is by the setting, there may be cases where the cooling/heating load would not be sufficient under overloaded condition.