Split Systems Cassette

Circular Flow Series (Comfort for Large Rooms)
Unique circular flow design
This cassette type air conditioner is equipped with a high performance DC fan motor, a turbo fan, and a louver to propel powerful airflows in all directions.
The built-in human sensor, which reduces the airflow when it detects that the room is unoccupied, saves energy consumption. The sensor can be set to either make the air conditioner operate in energy-saving mode or stop operating when no human motion is detected.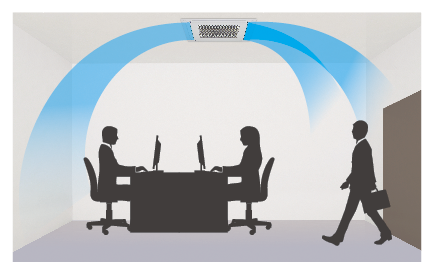 Airflows avoid blowing cool air directly at the occupants in the room, providing more comfortable air conditioning.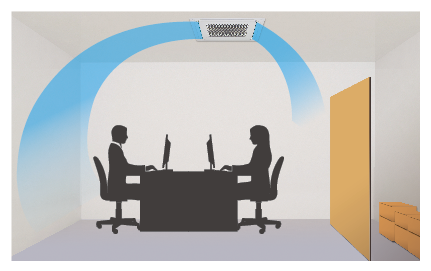 Provides efficient air conditioning based on the room layout
Individual louver control
Each louver can be individually controlled with a Wired Remote Controller with Touch Panel to provide different directional airflows according to the room layout.
*

Works only with the UTY-RNRYZ3 Wired Remote Controller with Touch Panel
Compact and lightweight outdoor unit

The outdoor unit for the 45,000-BTU model has been completely redesigned. Its compact and lightweight design makes it easy to install.
Low ambient operation
3 Cassette Grilles to choose from
Grilles come in either black or white. 3 types of grilles are available: a white grille with a remote controller; a white grille without a remote controller; and a black grille without a remote controller.
Select one that matches the room decor and the intended use of the room.

*

Works only with the UTY-RNRYZ3 Wired Remote Controller with Touch Panel