PRESS RELEASE
December 27, 2022
Fujitsu General Limited
22-V02-38
Fujitsu General starts local manufacturing of ATW in Europe, where decarbonization is promoted
Accelerate contribution to global environmental measures by launching new product with high energy-saving performance
Fujitsu General Limited (hereafter Fujitsu General) and Groupe Atlantic (hereafter GA) establish a joint venture, FGAHP, for the manufacture of heat pump water heating systems ATW (air to water) within Europe.
We will work to expand ATW sales to achieve a decarbonized society. Ownership of FGAHP is split 51% held by Fujitsu General and 49% held by SIC, a 100% subsidiary of GA, that manufactures boilers and other heating-related equipment. FGAHP was established in December 2022, in Billy-Berclau, France, where SIC is located.
In order to realize "Harmonious coexistence with our Planet," one of the key themes of our "Sustainable Management", we are working to contribute to the prevention of global warming through our business activities. As part of this effort, we are committed to expand our ATW business, which is expected to reduce carbon dioxide emissions by replacing equipment that use fossil fuels. We expect to sell approximately 500,000 units throughout Europe in FY2025. The establishment of FGAHP will contribute to this sales expansion.
ATW is a core product of "Sustainable Products," which we independently identify as a product that makes a significant contribution to reductions in carbon dioxide emissions, and plays an important role in contributing to global environmental measures and our sales.
[About GA]
GA is a France-based company that manufactures water heater and heating equipment, established in 1968. GA has a partnership with Fujitsu General for over 30 years as a distributor of air conditioner products of Fujitsu General in France. Since 2009, we have entered into a joint development agreement for ATW to collaborate on product development and market exploration, which has led to our number one ATW market share in France, the largest ATW market in Europe. In recent years, we have deepened our collaboration through exchanges of engineers and expansion of the scope of joint development.
[Purpose of establishment of a joint venture]
ATW provides indoor heating and hot water supply by pumping hot water produced with heat pump technology to radiators, floor heating units, and hot water storage tanks. By utilizing heat pump technology, compared with heaters fueled by oil or coal, ATW is expected to reduce carbon dioxide emissions significantly.
In Europe, decarbonization is accelerating with the consideration of introduction of decarbonization taxes and carbon pricing. Against this background, sales of ATW in France and other European countries are growing rapidly. In major countries in Europe, demand for ATW in FY2027 is expected to be as approximately three times as that in FY2021. Through the establishment of FGAHP, we will respond quickly to local demand, address supply chain and external cost increases, and reduce geopolitical risks, by producing ATW within Europe, where high growth is expected in the future. This enables us to further expand sales in the European market.
FGAHP also plans to produce ATW Monobloc (outdoor unit with water heat exchanger), which is jointly developed with GA. As ATW Monobloc is easy to install and does not require piping work to pass refrigerants indoors and outdoors, they are expected to be high in demand in Europe, especially in the U.K. where stricter regulations on fossil fuels are expected to become effective in the near future, illustrated by UK governments' announcement to limit the sale of gas boilers for newly constructed properties by 2025. Environmental regulations in other countries are also becoming tailwind for the ATW market.
Through the establishment of this joint venture with GA, we aim to accelerate "Sustainable Management" by aggressively pursuing the foundation for a growth path for fiscal year 2023 and beyond, as reported in "Responding to Urgent Issues and Promoting Sustainable Management" on April 28, 2022.
[About new product, ATW Monobloc]
"ATW Monobloc" will be launched in the first half of 2023 for the UK market as a jointly developed product with GA.
ATW Monobloc is unique in that the water heat exchanger is placed inside the outdoor unit. Unlike the separate-type version of ATW, in which the water heat exchanger is placed indoor, the ATW Monobloc does not require refrigerant piping work, making it easy to install.
The new product has achieved the industry's top*1 energy-saving performance by adopting a high-efficiency water heat exchanger and inverter. It also enables superior quietness by being equipped with a large fan.
In addition, based on the European living environment which puts emphasis on landscape, the new product is designed to harmonize with the installation environment by reducing mechanical elements and using colors that blend in with the wall and garden.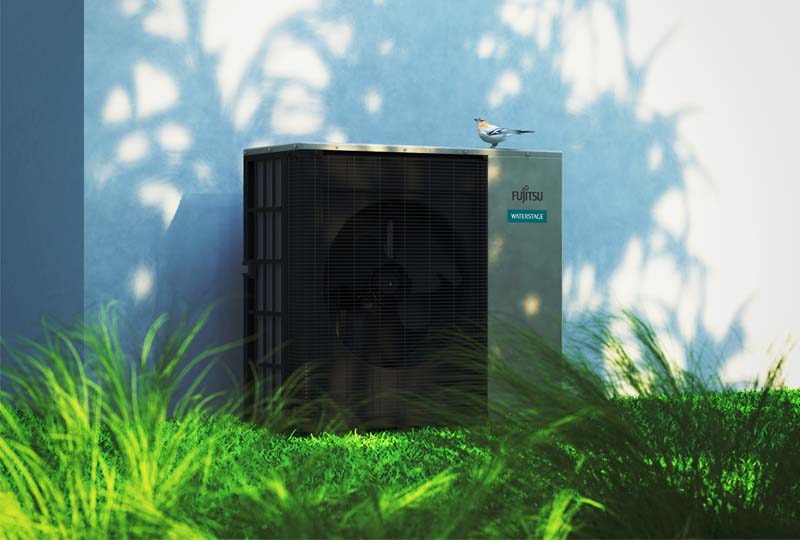 Image of ATW monobloc (outdoor unit) installed
Note
*1

ErP (heating period efficiency ηs) 206%. European standard EN14825 (in standard region, under condition water leaving temperature of 35°C, 10 kW class)As of November 24, 2022 (as a heat pump hot water heating system for the UK market). According to Fujitsu General's research.