Environment : Environmental Management

Environmental Management
Framework of Environmental Management
Fujitsu General Group established the "Companywide AKASURI Committee" chaired by the president as a place to solve cross-organizational issues concerning environmental management and the "Environmental Promotion Committee" chaired by the generalmanager of quality assurance and environment as a place to discuss environmental issues of individual organizations.
In addition, Fujitsu General Group is promoting environmental management by establishing the environmental management system based on the International Standard ISO14001. Within the group, domestic and overseas sales group companies acquired an integrated certification by the third parties and the group is promoting the environmental management in unity. Meanwhile, overseas manufacturing group companies established the environmental management system at each company (factory). We are promoting the environmental management by acquiring the third party certification.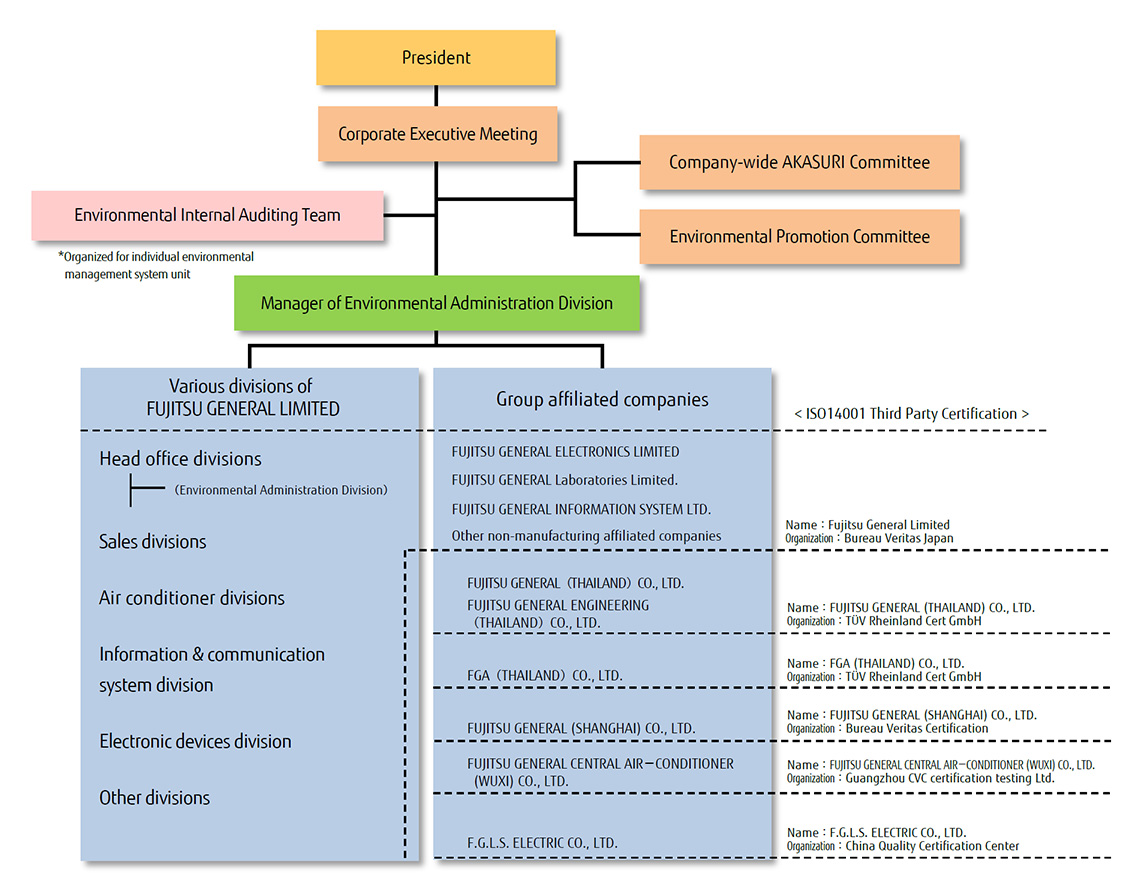 Construction and operation of environmental management system
The Environmental Management System (EMS) of Fujitsu General Group is comprised of an integrated certification acquired by Fujitsu General, domestic affiliated companies and non-manufacturing overseas companies, and five overseas manufacturing companies which independently acquired the International Standard ISO14001.
In FY2017, the transition examination to ISO14001:2015 version standard was completed at all sites, and the maintenance and continuation of certification was approved.
As to all matters pointed out as noncompliant as a result of EMS audit, the corrective measures were completed and regarding the observation matters to be improved, we will clarify the points to be reviewed and strive to enhance the level of management.
Implementation of internal audit and results
The ISO14001:2015 version standard requires contributing to environmental consideration and environmental protection through the primary operations of company.
In the internal audit of FY2017, the auditing was implemented focusing on to what extent the contents of standards transfer of environmental management are understood and how the efforts for environmental consideration are incorporated into the process of operations.
Result of FY2017 internal environmental auditing
| Category | Number of indications / improvements |
| --- | --- |
| Incompatibility concerning deviation risk of environmental laws | 0 |
| Incompatibility concerning other environmental risk | 22 |
Implementation of external audit and results
In September, 2017, the transition examination of to ISO14001:2015 version standard was implemented for domestic and overseas sales companies by external examination organization. As a result, there was one indication of "nonconformity" of regulations relating to firefighting check.
Including the nonconformity regarding other environmental risk, the relevant audited departments and environmental departments examined and implemented the measures in cooperation. Furthermore, the cross-organizational examination was made by notifying to relevant departments.
In addition, five overseas manufacturing companies which are to be independently certified have been certified sequentially from 2016 to 2017.
Result of FY2017 external environmental auditing
| Category | Number of indications / improvements |
| --- | --- |
| Incompatibility concerning deviation risk of environmental laws | 1 |
| Incompatibility concerning other environmental risk | 5 |