Environment : Activities for the customers and society

Resource circulation
Promotion of resource saving design
Based on the belief that it is important to efficiently utilize the resources used for our products, Fujitsu General Group is promoting a resource saving design at the stage of product design such as reduction in size and weight and reduction in the number of parts.
Introduction of case example
"AIRSTAGE®" J-IIIL series (AJY144LELAH), multi air conditioning system for store / office in Europe
【Super Green Product certified product in FY2017】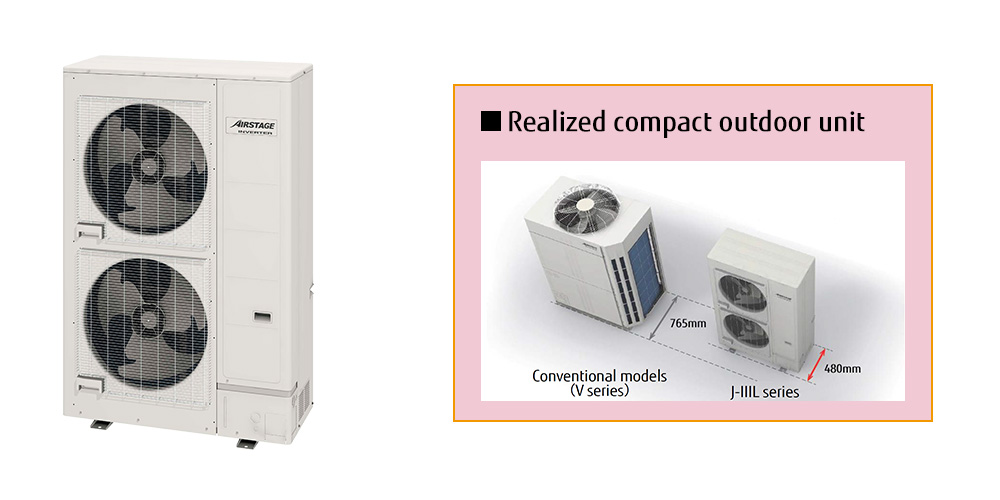 Realized the industry's smallest(Note1) compact outdoor unit
We realized the industry's smallest compact outdoor unit in the 16HP class by reducing the depth of outdoor unit to 480mm by changing the heat exhaust port of outdoor unit from vertical blow type to horizontal blow two fan type and optimizing the components such as the adoption of the original high density heat exchanger.
We improved the workability of installation by reducing the installation area by about 45% compared with the conventional models and making it easier to carry in the elevator when delivering and thus, it has become easier to install in an invisible place such as between buildings, in a small space like balcony or a place covered with a blind fence.
Refrigerant saving design
We realized refrigerant saving by about 14% by reviewing the structure and capacity of heat exchanger of the outdoor unit. (In case of system consisting of 40 indoor units, the amount of refrigerant was reduced from conventional 28.9kg to 24.8kg).
Improvement of decomposing / sorting ability
 At Fuji Eco Cycle Co., Ltd., we developed technologies to sort the collected products per material in detail and are striving to improve the recycling rate.
In FY2017, we produced our original cutting machine of the concentrated winding stator included in the compressor of refrigerator, by which it became possible to disassemble the concentrated winding stator which was impossible in the past, so that sorting for each material has become possible.
In the future as well, we will improve the accuracy of decomposing / sorting while enhancing the 3R technologies and contribute to the efficient use of resources.
Improvement of material sorting accuracy by our original cutting machine
Left : Cutting machine
Right : Concentrated winding stator
Note1 industry's smallest:

According to our company's survey as of March 30, 2018. In 16HP class. 1,638mm (H) x 1,080mm (W) x 480mm (D).
*

"AIRSTAGE" is a registered trademark of Fujitsu General Ltd.