CSR : Labour Practices

Develop Talented People Willing to Take on New Challenges
Approaches to labour practices
"Valuing and investing in our people" is a key element of the Fujitsu General Group's business management policy, firmly grounded in the belief that the foundation of our company is the employees. We seek to maximize the potential of our people by creating a workplace where employees can pursue a healthy lifestyle while taking on new challenges without sacrificing their diversity.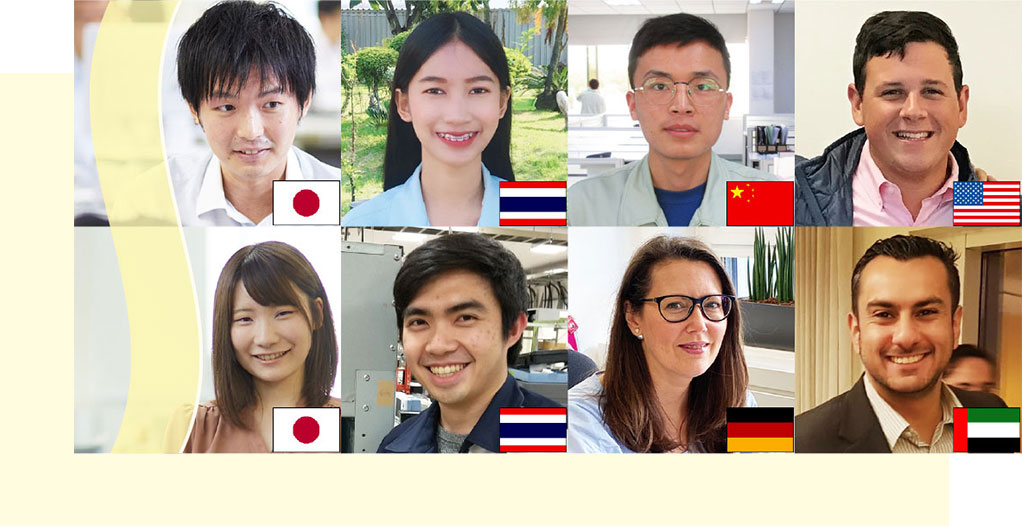 Establishment of technical academy of Air Conditioner
As the main training method for new engineering employees in the Air Conditioner Division, OJT* was conducted at each workplace, and this has led to variations in the strengths of engineers. In order to improve the situation, we established the Technical Academy of Air Conditioner in August 2019 with the aim of "cultivating engineers who can broaden their horizons and look at the entire product" and "expanding development resources by quickly developing new employees capable of joining the workforce."
*

Abbreviation of On-the-Job Training
On-the-Job training at a company near the Kawasaki Headquarters
In November 2021, we started OJT at manufacturing sites for young engineers in the AC divisions of Fujitsu General.
The members pay visits to companies engaged in manufacturing in Kanagawa Prefecture, where our Kawasaki Headquarters is located, to observe the actual field of monozukuri (manufacturing) and conduct simple hands-on training. In FY2021, training was conducted at three manufacturers engaged in sheet metal pressing, injection molding, and electronic substrate production. Since the Company's air conditioners are manufactured overseas, the training program is being promoted with the purpose of making the best use of people's experience of hardships and work involved in the field through on-site tours and practical training, so that the trainees can apply the knowledge to their future monozukuri.
We also believe that by paying the training expenses to the manufacturers where OJT is conducted, we can contribute to the local business community.
Design training presentation
Design training was conducted as second-year employee training at the Technical Academy of Air Conditioner.
Through Design Training, the participants learned about the differences in actual operating environments and the necessity and methods of designing air conditioners in consideration of the entire system, and Design Training Presentation was held as a wrap-up.
Overseas engineer training
For the purpose of passing down the monozukuri tradition as well as developing human resources who will be active as leaders of overseas corporations in the future, local engineers working at overseas bases of Fujitsu General Group (engineers in Thailand and Shanghai) are undergoing training for 2 to 3 years in the Kawasaki Headquarters.
Training center opened on the west coast of the United States
In February 2021, the "Airstage Innovation & Learning Center West (AILCW)" was opened in Martinez, California on the west coast of the United States, taking over the development base of Ventacity Systems Inc., which has a collaborative relationship with Fujitsu General for commercial air conditioning system.
Originally, about 1/3 of the space was used as a place for joint engineering training with Ventacity Systems, and as our Group's equipment, mainly VRF, has already been installed, it could be used as a training center without alteration. As the location is also in the center of the area where the stores of our distributers are, it has become possible for many distributors and contractors (installers) to receive our training.
In the future, we will use this base as a foothold to develop the West Coast and aim to further expand our business in North America.
Support for active participation of our senior talented people
Currently, Career & Life Seminars are annually conducted, organized by labor and management, for employees who are 50 years old. Themes include how to prepare for the future, touching upon such subjects as the aging process and its impact and how to manage financial resources after retirement. Career Seminars provide support for participants to consider their own career direction from the three perspectives of what they should do, what they can do, and what they aspire to do, while Life Seminars provide information on how to build a prosperous and happy life plan.
In-house recruitment
As one of the measures to revitalize the organization by mobilizing internal human resources, and with the aim of fostering a culture that encourages both employees and the workplace to take on new challenges by supporting employees' autonomous career development, we restarted the internal recruitment system in FY2017 for the first time in 14 years.
Rank-based training
General training
(e-learning training, etc.)
Managers
New manager training, management training, Labor management training
Corporate Philosophy training
Human rights
Harassment prevention
Ethics
SDGs training, etc.
Mid-level employees & general employees
OJT, self-training for promotion to manager, leadership training
New recruits
Onboarding, technical training, practical training in manufacturing
Training for new recruits
Basic training for new recruits is conducted for approximately two weeks upon joining the company. The areas covered include an overview of the company organization and proper business etiquette including societal expectations. After completing the basic training and being assigned to a specific business unit, additional departmental training is provided.
Training for new managers
The training is designed to develop managers who will be self-reliant. Revisited areas include the proper attitude a manager should maintain, managerial skills, and business strategy formulation.
Various types of e-learning training
E-learning training is conducted as appropriate. The necessary course materials are created by division and provided on the intranet for both executives and employees at all levels.
Relevant Information (Links)