CSR : Labour Practices

Create Workplace Where Employees Can Work Flexibly with Diversity
Approaches to labour practices
"Valuing and investing in our people" is a key element of the Fujitsu General Group's business management policy, firmly grounded in the belief that the foundation of our company is the employees. We seek to maximize the potential of our people by creating a workplace where employees can pursue a healthy lifestyle while taking on new challenges without sacrificing their diversity.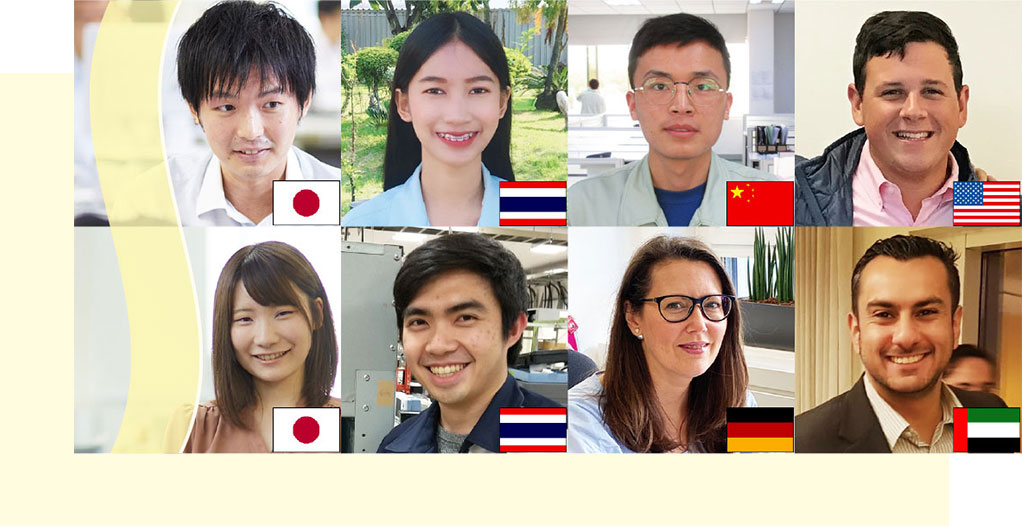 Promoting women in the company
As part of the Diversity & Inclusion promotion, Fujitsu General Group is working on creating an organizational culture in which women can play an active role regardless of gender.
We believe that the success of women is indispensable for the growth of the company and the creation of innovation. In order to eliminate any situation in which gender is a barrier, we have conducted interviews at workplaces and with women themselves to ascertain the reality, conducted improvement measures, held roundtable discussions with women outside Directors, and conducted training for mid-level women employees.
As a result, the percentage of women in our Group's regular hiring in FY2021 was approximately 31%, and as of April 2022, there were 12 women in management positions and 16 women leaders who are candidates for the future management, excluding locally hired personnel overseas.
Currently, in line with the new action plan (see below), we are actively promoting motivated and capable women in order to enhance the empowerment of female employees.
Fujitsu General (non-consolidated) Action Plan Second Phase (from FY2021 to FY2026) in line with "Act on Promotion of Female Participation, etc."
1) Promote a total of 15 or more new female employees to newly appointed managerial and leadership positions (Grade L).
2) Increase the ratio of male employees (regular employees) taking childcare leave to 30% or more, with an average leave period of ten days or more.
Re-employment after retirement
In Fujitsu General Group (Japan), the mandatory retirement age is 60 years old, but we provide a place where those who wish to continue working after the age of 60 can work until the age of 65. As persons with management experience, utilizing their high level of knowledge and expertise, they are responsible for supporting managers by negotiating and coordinating with them to ensure a smooth operation of the organization, as well as for taking primary response to irregular matters and contributing to training of younger employees, while being responsible for tasks within the normal scope of their duties. Even after passing the official retirement age, these employees continue to contribute by sharing their specialized skills and business connections with more junior members of the company.
Recruiting foreign employees
In Japan, the Fujitsu General Headquarters also recruits foreign nationals.
Promoting foreign nationals as managers at overseas locations
Fujitsu General Group has been appointing human resources with management responsibilities from local employees at overseas bases.
Work-life balance
The Fujitsu General Group has established that "valuing and investing in our people" is paramount to its pursuit of business and as such, maintaining a healthy work-life balance is a fundamental cornerstone to support our Work-style Reform.
As an initiative to reduce long working hours, the Kawasaki Headquarters area sets a regular leave-on-time day once a week and recommends no overtime days. As a result of regular patrols by labor and management to encourage employees to go home on time, the percentage of employees leaving work on time in the Headquarters area on regular leave-on-time day has been roughly 90% throughout FY2021. To encourage employees to use their annual paid leave, it has been recommended that each employee takes no less than two days of annual leave every six months and includes a weekend or national holiday to extend the leave time beyond two days. In addition, from FY2020, we have increased the number of annual leave days set during the summer vacation period to four days, up by one day, to promote the use of annual leave.
*

Company-wide activities to build a foundation that helps reduce environmental impact and increase profitability.
Supporting life fulfillment
The Fujitsu General Group has put in place various systems to enable its employees and families to lead healthy and fulfilling lives.
In order to meet the diversified needs of our employees, in addition to our existing welfare system focusing on livelihood support (rent subsidies, company cafeteria, group insurance at preferred rates, cash for happy occasions or condolence), we have introduced the Cafeteria Plan that allows each employee to choose a menu that suits their lifestyle.
This allows employees to freely select and utilize the menu they wish to use from among those set by the company, focusing on childcare, long-term care, health, and self-development support, together with the benefit package services.
Furthermore, anticipating the era in which people will have 100 years of life, the Company introduced a new retirement benefit system, including the defined contribution (DC) pension plan in April 2021, to prepare for a postretirement life.
Dialogue with the labor union
The Fujitsu General Group has entered into a collective agreement with Fujitsu General Workers Union (union shop system) established in 1955, under the umbrella of the Japanese Electrical Electronic & Information Union and the Federation of All Fujitsu Workers' Unions, with mutual respect for their positions. The agreement stipulates the importance of communication between labor-management, such as "Establishment of Labor Council at Headquarters and Production Council at plants and other business sites for the purpose of mutual communication between labor-management and to maintain and improve labor productivity." The Central Labor Council and the Fall Labor Council, attended by the President and other corporate officers, are held regularly each year. In addition, the Labor and Production Councils are held as necessary to explain management policies, business conditions, and business reorganization to employees, and to discuss various working conditions and improvements in the workplace environment.
Based on the union democracy, our Group fully cooperates with Fujitsu General Workers' Union, which is striving to enhance labor-management communication at all levels in order to make Fujitsu General Group a more "attractive, trusted and reliable company" in the eyes of customers, society and union members. At the same time, we are striving to maintain and improve sound and good labormanagement relations through constructive dialogue based on mutual respect.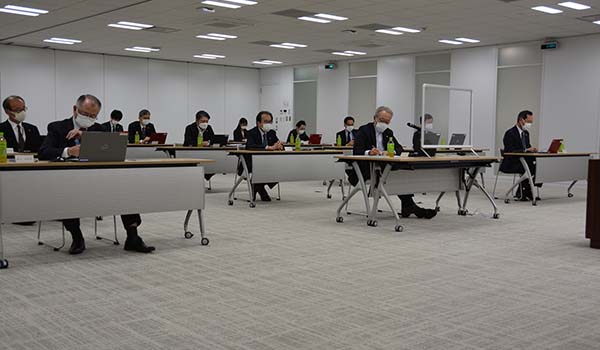 Social contribution by the Workers Union
Fujitsu General Workers' Union, which is working to contribute to society at large by addressing global environmental issues and solving national and regional problems, recognizes the social roles and responsibilities of a workers' union, and is engaged in various activities that contribute to society and local communities, such as "protection of the natural environment" and "support for education in developing countries," aiming at coexistence with people around the world, utilizing the network its parent organization has built.
Welfare and employment promotion for the disabled
The Kanagawa Regional Council of the Japanese Electrical Electronic & Information Union to which the Kawasaki Branch of the Fujitsu General Workers' Union belongs is developing a wide range of welfare activities for people with disabilities. The Denki Kanagawa Welfare Center, a social welfare corporation, which was established by the Council (the late Mr. Hiroshi Asano, the first president, was from Fujitsu General Workers' Union), is a rare welfare provider in Japan that is parented by a workers' union, and its activities to promote employment of people with disabilities are particularly highly appreciated both in and outside of Kanagawa Prefecture.
Fujitsu General Workers' Union has continuously participated in the disability welfare activities of the Kanagawa Regional Council of the Japanese Electrical Electronic & Information Union since 1972. The Tissue Paper Donation Campaign, which is an initiative to secure funds, has taken root at the Fujitsu General Kawasaki Headquarters, with members of the Workers' Union Kawasaki Branch calling on each and every person in the workplace to participate, donations equivalent to about 3,000 boxes of tissue paper are collected every year.
"Food Drive" Initiative for food donation
The Kawasaki and Ichinoseki branches are engaged in the Food Drive Campaign in which they collect donated food items and donate them to local support groups for the needy, children's cafeterias, welfare facilities, and other organizations in need of food. The Kawasaki Branch donated approximately 24 kg of rice from workplaces as part of the "One Cup of Rice Campaign," and the Ichinoseki Branch donated approximately 60 meals, including cup noodles and retort pouch foods, to food banks in their respective areas.
Relevant Information (Links)