FUJITSU GENERAL Group

Information & Communication Systems
Fire and disaster prevention systems
As one way to help build fire and disaster prevention infrastructures, we provide fire prevention systems that protect people's lives and property as well as disaster prevention systems that keep people safe and secure—as total solution system services covering everything from planning, manufacturing, sales, and maintenance.
During emergency dispatch, our fire prevention systems instantaneously give precise instructions and support firefighting activities, by providing comprehensive information assistance such as locating callers, searching for the shortest routes to fires, checking the formation and equipment of dispatch units, and confirming the status of on-site facilities.
Our digital disaster prevention systems can display images and text in addition to broadcasting audio, allowing for more accurate information transmission. We continue to help build advanced disaster prevention systems in municipalities all over Japan.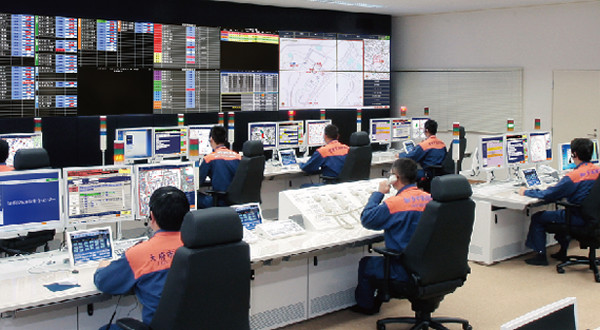 Distribution/video systems
We provide customers with their ideal system—from planning and development, to installation and maintenance.
We provide a wide variety of distribution systems, from back office systems that manage order placement, inventory, and attendance, to front systems such as POS and ordering systems.
Our video systems provide a variety of solutions including patient guidance systems that link with digital charts to support the flow of patients to reception, medical examinations, bill settlement, and drug administration within a hospital's outpatient services, display panels, and terminals for calling people within the hospital.