FUJITSU GENERAL Group

Air Conditioners
Fujitsu General has been in the air conditioner business since 1960, when we introduced our first-generation window-mounted cooler for home in Japan. In 1971, we started marketing air conditioners in Kuwait, where outdoor temperature tops 50℃ (122℉) during the day and a cloud of dust looms over towns. In this challenging environment, our air conditioners performed as they should have and established the brand in this Middle Eastern country.
Over the past six decades, we have developed and used a variety of ground-breaking technologies and design innovations to make our air conditioners operate under any environments and more efficiently. All these relentless efforts have enabled us to become one of the leading air conditioner brands in Europe, Japan, the Middle East, and Oceania. Today, we are expanding our business in the American and Asian markets as well.
With the demand for air conditioners surging globally, we have broadened our product offerings to include compact residential air conditioners, commercial air conditioners, and more elaborate multi-split variable refrigerant flow (VRF) air conditioners for large buildings. In addition, we have stepped up our efforts to bolster our air conditioner sales further by making our assortment of commercial units more competitive.
We are working to add more models to our lineup to meet diverse customer needs around the world and to develop more sophisticated underlying technologies for air conditioners to address the issue of global warming. Our objective in this business is to continue to develop products that offer greater energy efficiency and deliver comfortable living environments to customers while at the same time playing our role in advancing environmental stewardship.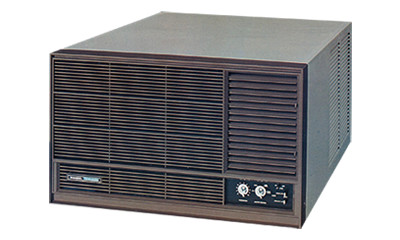 Research & Development Organization
Our R&D facilities in Kawasaki (Japan), Laem Chabang (Thailand), and Shanghai (China), develop products tailored to meet local customer needs. In July 2019, we opened the Innovation & Communication Center on the premises of our Kawasaki Headquarters as part of our efforts to encourage greater interdepartmental engagement and collaboration as well as open innovation. The goal is to create new value by leveraging the knowledge originating from inside and outside the company.
Residential Air Conditioners
We incorporate design innovations and state-of-the-art technologies into our residential air conditioners to make them operate more efficiently and provide greater comfort in the living environment. Our industry-leading innovations include human sensors (1988) that achieve greater energy efficiency, the compact and energy-efficient Lambda heat exchanger (1991), and a flat front panel (1999) that achieves greater air-suction efficiency.
In 2003, we introduced the industry's first air conditioner equipped with a selfcleaning filter, which saves the user the trouble of cleaning the filter under the hood while maintaining high energy efficiency. This trend-setting feature has become so popular that it is found in almost every air conditioner in the higher price range available from all leading manufacturers today.
With the introduction of this model in 2003, we started using the brand "nocria®" for our air conditioners, which is "air con" spelled backward and connotes breaking the stereotype of an air conditioner. Staying true to this tradition, the nocria S, introduced in 2008, came with the then industry's smallest indoor unit and became synonymous with compact air conditioner.
The latest nocria X model is fitted with the DUAL BLASTER airflow control, which enables warm or cool air to reach every corner of the room, even at a modest temperature setting.
The newer generation of our air conditioners have become even smarter; they use AI and IoT technologies to control the room temperature at an optimum level automatically, based on the user's usage patterns as well as using data collected from built-in sensors and weather information.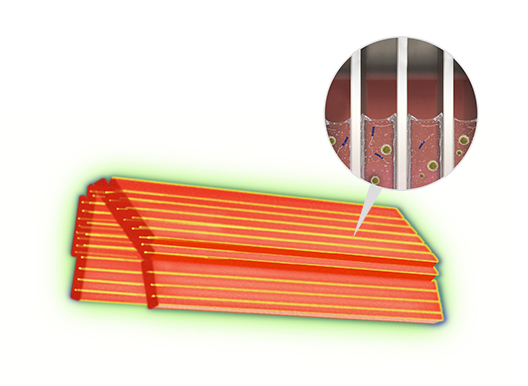 Commercial Air Conditioners
We have been bolstering our commercial air conditioner business globally. In Europe, our space-saving multi-split air conditioning system that enables a single outdoor unit to run multiple indoor units has been becoming increasingly popular in cities in which regulation is imposed on buildings' owners to keep the townscapes beautiful. In North America, we have been increasing sales of our individually controlled room air conditioners, which are more energy-efficient than central air conditioning systems, to medium-sized office buildings and commercial facilities.
The multi-split VRF air conditioners for buildings have been selling well in the America, Australia, China, and Europe since released in 2001, as customers can choose from the series models tailored to each market. To meet diverse customer needs for commercial multi-split air conditioners in terms of energy efficiency, installation flexibility, and airflow control, we will step up our efforts to incorporate advanced technologies for refrigeration cycle control and comfort control into our next generation of multi-split VRF air conditioners and capture a larger share of the global market.
Furthermore, we are expanding the customer base for an integrated system that connects outdoor units for a multi-split air conditioning system with large air conditioners that include ventilation and air handling units.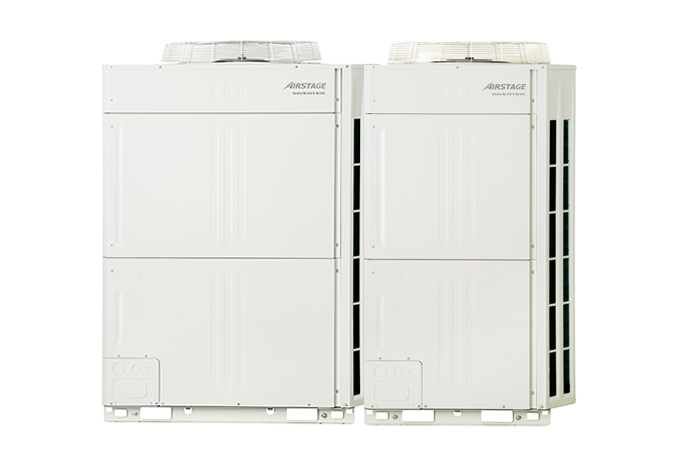 Air Deodorizing Devices
We develop and design our air deodorizing devices with the assistance of licensed odor examiners. Our proprietary triple-deodorization technology freshens the air in the house.