Split Systems Wall Mounted

Standard Range (High Efficiency & Comfort)
High efficient compact design
Making the tube thin: from 7mm to 5mm
Increase of heat exchanger volume by high density and adopting sub heat exchanger
More comfort airflow
Heating
Vertical airflow provides powerful floor level heating
* Power diffuser
More comfort airflow
Cooloing
Horizontal airflow does not blow cool air directly at the occupants in the room.
* Power diffuser
Powerful operation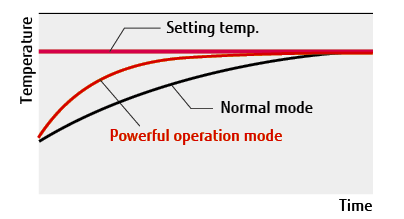 20 minutes continuous operation by maximum airflow and maximum compressor speed is possible. Rapid cooling and heating makes the room comfortable quickly.
"Leise-Lauf"-Modus für Außeneinheit
Der "Leise-Lauf"-Modus für die Außeneinheit kann mit der Funkfernbedienung eingestellt werden.