Split Systems Wall Mounted

iSense CMTA
Large Capcity & Powerful airflow
Achieved large capacity and powerful airflow by large heat exchanger, and ieved hanger, long cross-flow fan, high output DC fan motor new airflow structure design.
Airflow : 25% up
Optimized airflow design
Energy saving control
A human sensor senses the movement of humans to reduce operation when no one is in the room. The wasteful consumption of energy is reduced automatically to keep down electricity bills.
Human sensor's coverage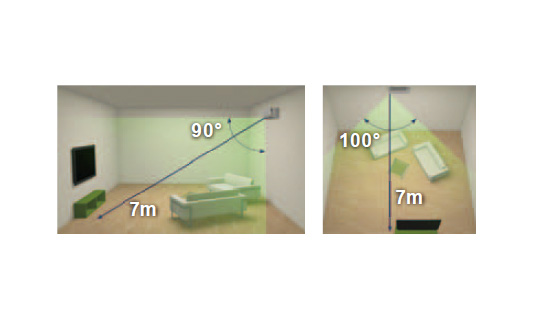 New efficient refrigerant
New products adopt the new refrigerant R32. It performs better and is more energy saving than previous refrigerants.
Automatic operation to match your lifestyle during the week
3 Mode timer (weekly/Program/Sleep)
Planned schedule operation can be set easily to match your lifestyle to save energy by reducing wasteful operation.
Press the Weekly timer button.
Setting for all days of the week
Set ON/OFF time and temperature for 1 day.
The same settings are applied in batch for 1 week.
Thereafter, you can change just only timer program of specified days.