FUJITSU GENERAL Group Business Overview

Consumer Air Conditioners
Over a half-century in the air conditioning business, Fujitsu General's outstanding development and technological capability have always given it a leading role.
Besides Japan, we have established significant share in our other principle markets, including Europe, Oceania, Middle East and Africa, North America and China.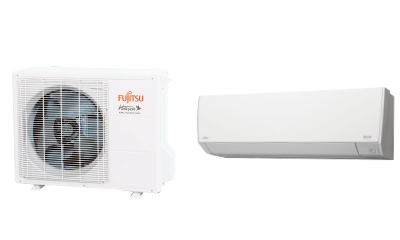 We develop products based on cutting-edge technology driven by innovative ideas that always seek to enhance user convenience.
We have continuously led our competition by being the first to introduce such innovative features as the 'Automatic Self-cleaning Filter System' (2003) maintaining consistently high energy efficiency, the 'Human Sensor' (1988) that saves energy by eliminating unnecessary operation, the 'Lambda Heat Exchanger' (1991) achieving compactness without sacrificing energy efficiency, the 'Double-blow Flap' (1985) and 'Power Diffuser' (1995), both features that enhance airflow control, and the front flat panel for more efficient air intake (1999).
Keenly aware that we, too, share responsibility for the wellbeing of the global environment, Fujitsu General is committed to developing energy efficient products such as Air To Water (ATW), a water heating system launched in European market, which emits less CO2 by applying heat pump technology used in air conditioners.
Along with providing our customers with a comfortable living environment, we are committed to preserving the beauty of the planet that is our home.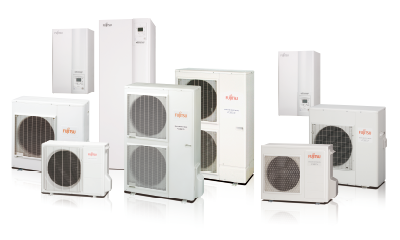 Fujitsu General's signature 'nocria' room air conditioner series continues to lead the industry by introducing new and innovative product solutions to the market.
'nocria' is "aircon" (short for "air conditioner") spelled backwards, and as the name suggest, the series aims to turn conventional air conditioner thinking upside down.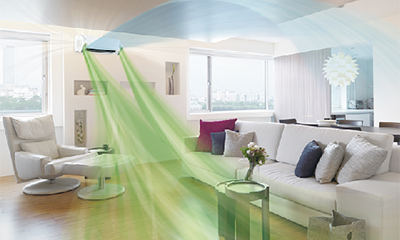 Air conditioners to be sold outside Japan are equipped with our unique technologies such as the automatic self-cleaning filter system and multi-path heat exchanger created by "nocria" and we are newly creating markets for high-end air conditioners with high added value.
In 2003, the 'nocria' became the first air conditioner ever to be equipped with an automatic self-cleaning filter system.
Ever since, we have continued to release "nocria" models incorporating functions using the latest technology, including a high-density multi-path heat exchanger that dramatically improves energy efficiency and dehumidifying performance, a presence sensor that detects users' movement and has enhanced comfort, energy-efficiency, and power-saving, radio-frequency wireless remote controls, and "Dual Blaster" functions that accomplish pleasant heating and cooling even when energy-saving temperatures are set.