Airstage™ (VRF Systems)

J-III TROPICAL Series

High Energy Efficiency
Heat pump inverter control is used to achieve an efficient cooling and heating operation in any indoor unit combination.
Flexible systems for small and medium-size buildings
Space saving design and long piping design allow for flexible installation on the roofs or balconies of small and medium-size buildings.
Multiple indoor units of various capacities and types can be connected.
Anti-corrosion treatment design
All metalic and PCB components are protected against corrosion.
High ambient operation design
Possible to operate cooling up to 52ºC outdoor temperature
Efficiency in actual operation
Top class high COP is achieved for all models by large heat exchanger, high efficient DC twin compressor, and our own technologies.
3-phase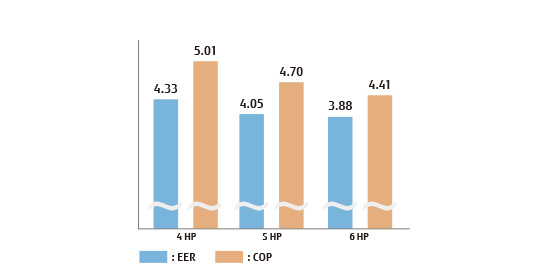 Single phase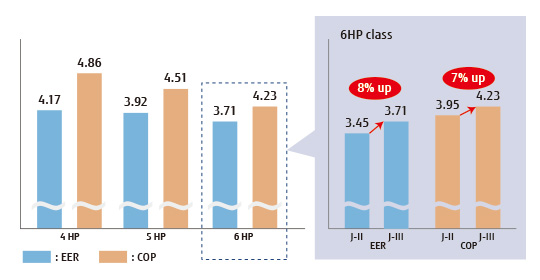 Advanced high efficiency technology
Large propeller fan
High performance and low noise realized by large propeller and optimization of angle.
DC inverter control
Efficiency is improved by mounting of new active filter module.
DC fan motor
Miniaturized, low noise, high efficiency, multi-stage DC fan motor is mounted.
Large heat exchanger
Heat exchange performance is substantially improved by mounting of 3-row large heat exchanger.
Subcool heat exchanger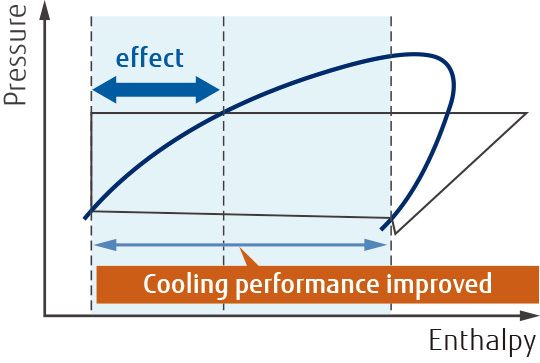 Cooling performance is improved by mounting of dual tube heat exchanger.
DC twin rotary compressor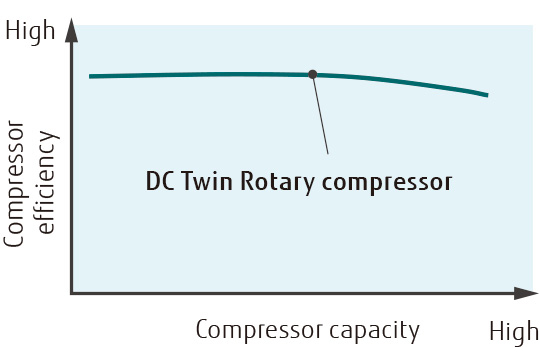 Efficiency in all load regions is good. Especially good performance from low to medium at normal operation.
Long Piping Length
Our advanced refrigerant control technology allows us to achieve a total refrigerant piping length of 180 m. This opens up new possibilities in system design.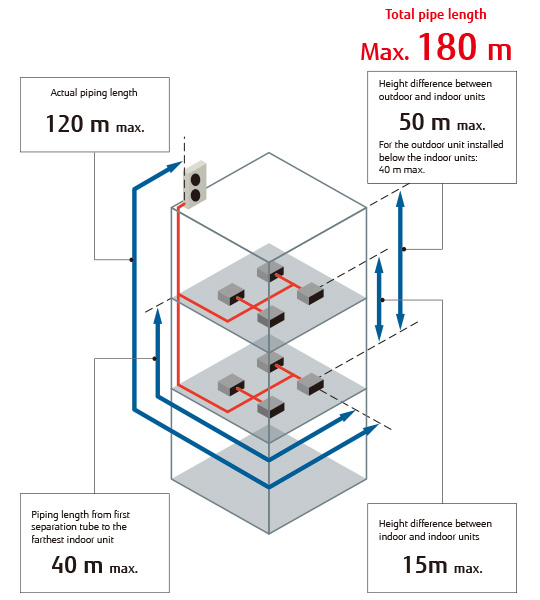 Non-stop oil recovery operation
A comfortable room condition is maintained during oil recovery mode because the product continues to operate without stopping the cooling or heating operation.
Easier Installation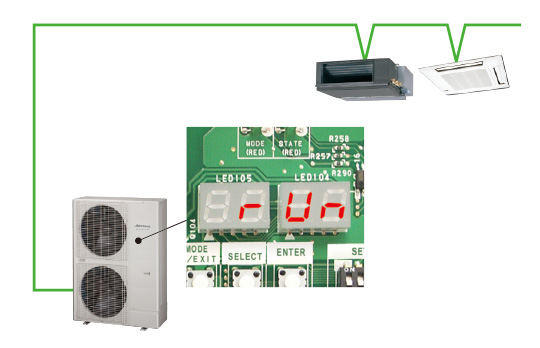 Connection check function :

Possible to confirm whether wiring connection and address setting are correct by a quick check run function.
Display connected indoor unit numbers
Duplicately set address number of indoor unit can be displayed