External Switch Controller

UTY-TEKX

Download :

Catalogues
Air conditioner switching can be controlled by connecting this External Switch Controller to other sensor switches.
In combination with a commercially available card-key switch or other sensors, this External Switch Controller enables the control of On/Off, room temperature, and fan speed of connected air conditioners as well as master control. This makes this product an ideal choice for use in hotel rooms.
Card-key or other sensor switches are commercially available for purchase.
Installation example

Auto mode operation, which switches air conditioners between cooling and heating operations automatically, is enabled by the combination of the sensor switch and an External Switch Controller.
Note 1.

All indoor units operate in the same mode.

Note 2.

Select a thermosensor switch capable of setting T1 and T2 temperatures.

Note 3.

The remote controller overrides the auto mode operation.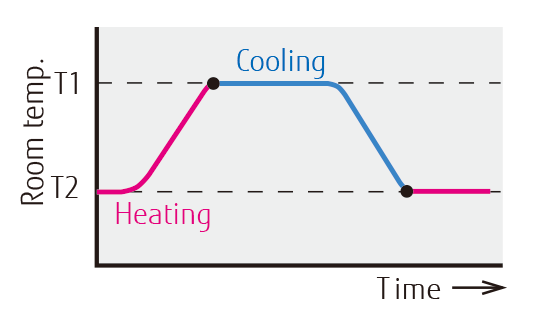 Specifications
Model Name
UTY-TEKX
Power Supply
12 V DC
Net Dimensions
Height
120 mm
Width
75 mm
Depth
30 mm
Net Weight
100 g
*

12 V DC supplied by an indoor unit