Slim and compact design
The indoor unit with a return air duct placed at the bottom fits into a narrow ceiling space. Other space-saving design features include a control box built into the unit's chassis.
Drain pipe can be installed on either the left or right side of the unit
Easy maintenance
The bottom panel comes in two pieces—front and rear. The internal fan casing also comes in two pieces—upper and lower. The motor and fan can be easily accessed and maintained by removing the rear panel and the lower casing with the main chassis remaining in place.
Separation is possible by lightweight compact design
The indoor unit can be separated into fan unit and heat-exchanger unit to assist the installation works.
1:

Heat exchanger unit

2:

Fan unit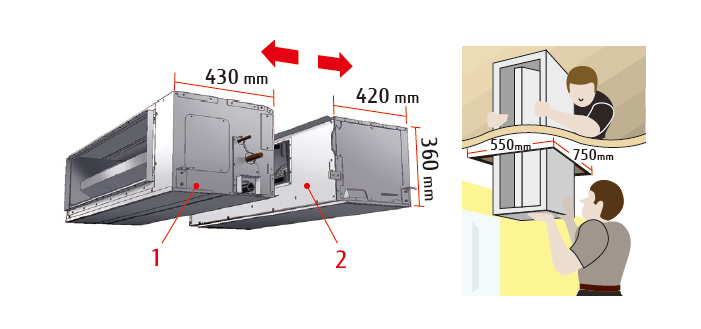 Automatic airflow adjustment
The optimum airflow can be set automatically to facilitate faster installation.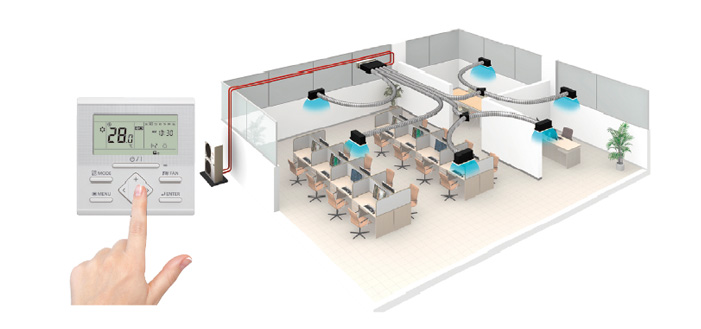 High Energy Efficiency
Energy efficiency is improved drastically by new airflow design.
Low Operation Sound
Drastic improvement in efficiency and low noise are realized by uniform air speed and airflow path to the heat exchanger.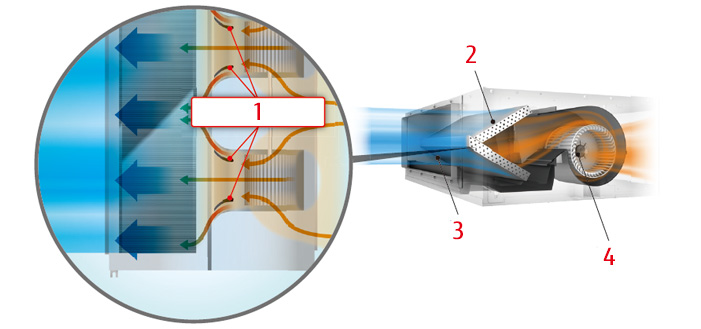 Air Stabilizer
V-shape heat exchanger
Efficient airflow design
High efficient - DC fan motor Lower power consumption