AIRSTAGE™ VRF Systems

J-IVS Series
Features
Common features
Series Features
It Can be Easily Positioned and Installed
Small and light weight outdoor unit
Low sound level design
Long piping length
Up to 13 units* can be connected

08:38
It Can be Easily Positioned and Installed
Current model / 6 HP class
Height:1334 mm
Weight:117 kg
Small and light weight outdoor unit
This model is much more compact than conventional 6HP comparable outdoor units. Even when installed on the balcony it fits within the height of the fence. The compact size with a height of less than 1 m allows it to be installed under windows and in tight spaces.
Low sound level design
Significantly low sound level is realised by using DC twin rotary compressor, inverter technology, and advanced airflow structure design.
Long piping length
Our advanced refrigerant control technology extends the maximum allowable length of refrigerant piping to 80 m. This provides greater flexibility in system design.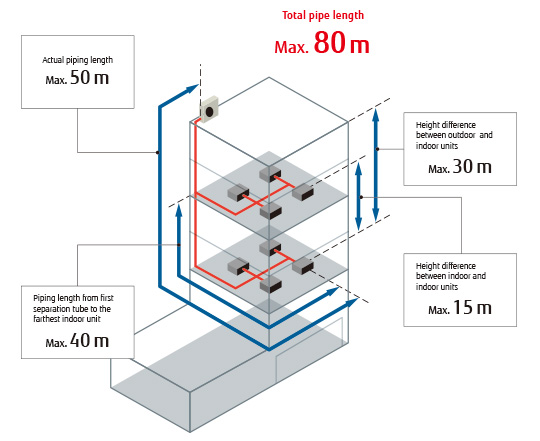 Up to 13 units* can be connected
Improvements in the design of the outdoor heat exchanger combined with our new 1.1kW indoor units mean that up to 13 indoor units can be connected.
*:

6 HP model