Features
Common features
Series Features
Intelligent refrigerant control
External static pressure
Advanced high-efficiency technology
Easy to carry, easy to install
Small, lightweight outdoor unit
Low noise design
Long pipe length
Up to 13 indoor units* can be connected
Non-stop oil recovery operation
Easier Installation

08:38
Intelligent refrigerant control
Fujitsu General is proposing outdoor units equipped with refrigerant control function.
The refrigerant control operates with suitable control corresponding to the heat load of the room and offers a more comfortable environment. The refrigerant control can also provide increased energy savings.

*

The improvements due to the control and the actual sine wave vary depending on the combination of the indoor unit and system operating conditions.
External static pressure
External static pressure measures up to 25 Pa for 4/5/6 HP models.

Advanced high-efficiency technology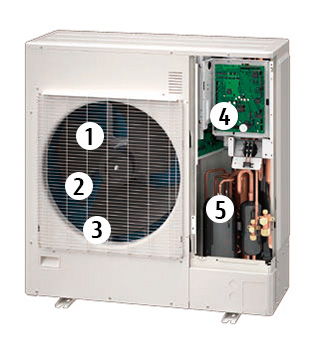 1. Large propeller fan

A large propeller fan with an optimized blade angle achieves both high performance and low noise operation.
2. DC fan motor

A small, multi-stage DC fan motor provides high-efficiency and low noise operation.
3. Large heat exchanger
The large 3-row heat exchanger substantially improves heat-exchanging performance.
* High heat-transfer copper tube (Improved lead angle)
4. DC inverter control
The active filter module improves efficiency.
5. Compact and high-performance DC twin-rotary compressor
High-efficiency is achieved across compressor loads. Especially good performance is achieved in the low- to medium-load range.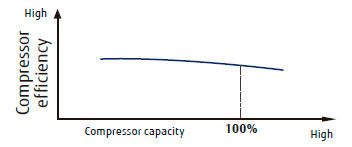 Easy to carry, easy to install
Current model / 6 HP class
Height: 1334 mm, Weight: 119 kg
New model (J-IVS) / 6 HP class
Height: 998 mm, Weight: 88 kg
Small, lightweight outdoor unit
The outdoor units in this series are much more compact than conventional outdoor units of comparable capacity.They can be installed on a balcony, fitting below the height of the railing. With a height of less than 1 m, they can be installed in tight spaces such as under windows.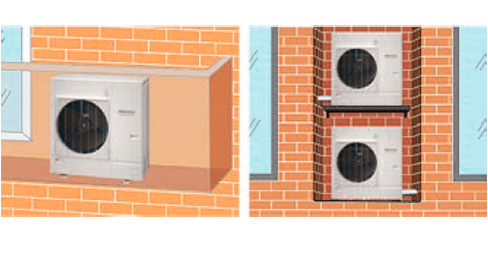 Low noise design
Significantly low noise levels are achieved by the use of a DC twin-rotary compressor, inverter technology, and an advanced airflow structure design.
Long piping length
Our advanced refrigerant control technology extends the maximum allowable length of refrigerant piping to 80 m. This provides greater flexibility in system design.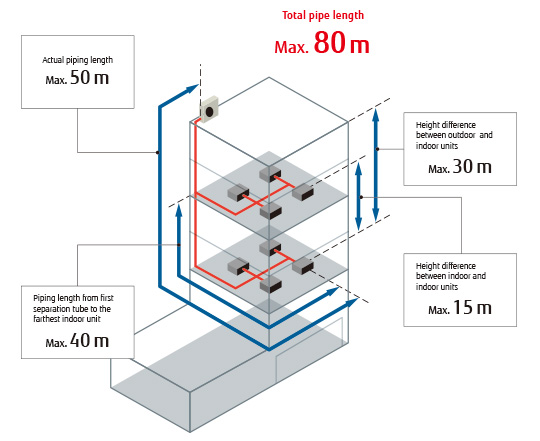 Up to 13 indoor units* can be connected
The combination of smaller but sufficiently powerful indoor units and a new outdoor unit with an optimized heat exchanging structure makes it possible to connect up to 13 indoor units, which is the best in its class.
* 6 HP model

Non-stop oil recovery operation
A comfortable room condition is maintained during oil recovery mode because the product continues to operate without stopping the cooling or heating operation.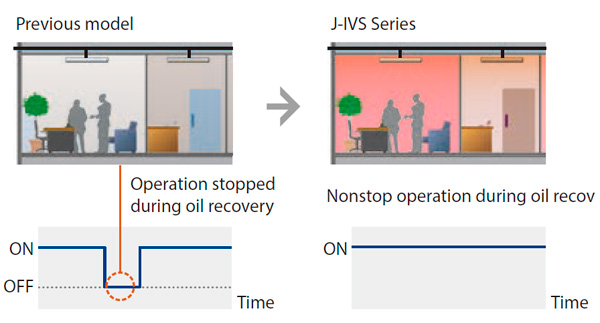 Easier Installation
Connection check function: Wiring connections and address settings can be checked thanks to the quick check run function.
Displays the number of each connected indoor unit.
Displays the duplicate address number assigned to an indoor unit.