MODBUS® Convertor UTY-VMSX

Max. Connectable :

1 Single indoor unit
The MODBUS Convertor allows a complete integration of air conditioners into MODBUS Networks.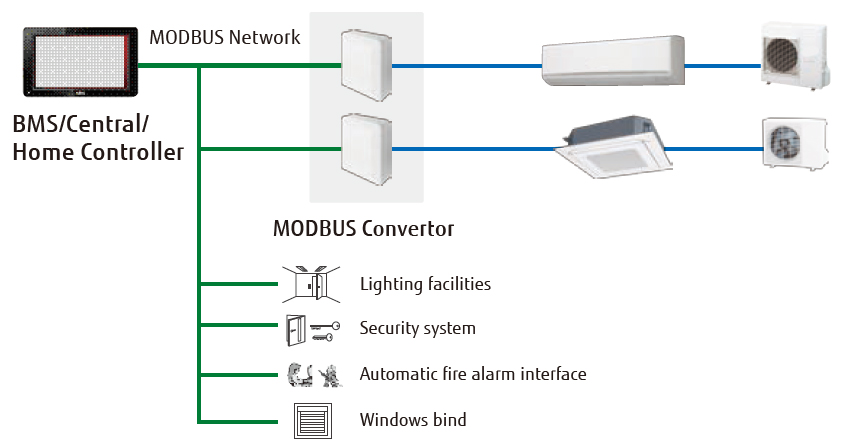 Simple installation due to small and compact size.
No separate external power supply required.
The MODBUS Convertor must be connected one by one in the indoor unit.
The MODBUS Controller permits central monitoring and control of air conditioners from BMS/Central/Home Controller.
Basic control
Turning the units on and off
Mode control (Heat, Cool, Dry, Auto, Fan)
Fan speed setting
Louver position (Airflow direction setting)
Room temperature setting and display
Economy mode setting
Error status
Easy Installation
Flexible installation locations with neat wirings are feasible since no power supply cable is used in the convertor.
Turning the units on and off
Mode control (Heat, Cool, Dry, Auto, Fan)
Fan speed setting
Louver position (Airflow direction setting)
Room temperature setting and display
Economy mode setting
Error status
Specification
Model Name
UTY-VMSX
Net Dimensions
Height
140 mm
Width
117 mm
Depth
43 mm
Net Weight
200 g
Input Power
Max. 1.2 W
Maximum Connectable indoor unit number per 1 MODBUS Convertor
1
Temperature (Operating / Packaged)
0~46/-10~60 ºC
Humidity (Operating / Packaged)
0~95 / 0~95 %