Split Systems

Floor (Compact & Comfort)
2-fan and wide airflow
The 2 fans generate individual up/down airflows, which cool or warm the entire room comfortably.
Flexible and easy installation
The compact and whole-surface suctioning design provides flexible installation options, including floor-standing, embedded, partially embedded, and wall mount installation to match the room layout.
(unit: mm)
Beneath the window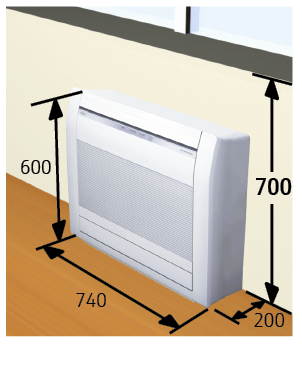 Inside an alcove in the wall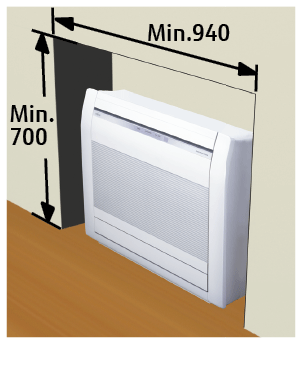 Wall mount
Partially embedded in the wall (optional parts required)
Flexible pipe connection enables draining and piping in 6 directions
The drain hose and pipe can be connected to the unit in the right, left, angled, or downward direction.
10ºC heating operation
The room temperature can be set to not go below 10°C so that the room will not become too cold when unoccupied.
Low ambient operation