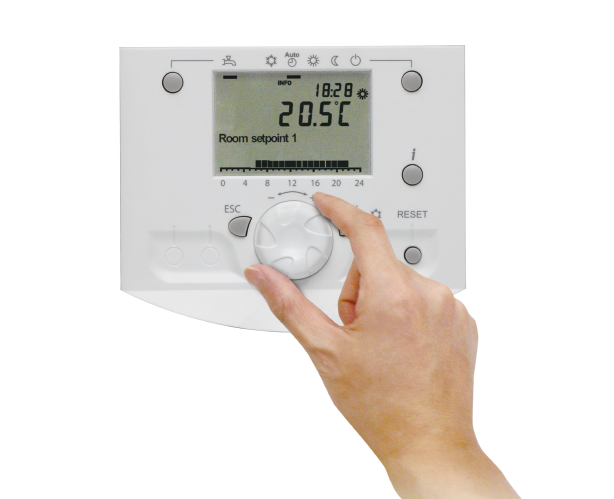 Navigation and setting
Selecting the heating menu
Setting program timer
Large LCD panel
Operation status display
Error display
Plain text
Simple operation mode setting
Selecting the heating mode and Domestic hot water operation
Automatic mode

Comfort/Reduce mode switching automatically according to outdoor temperature
Comfort mode

Constant comfort temperature
Reduce mode

Constant reduce temperature
Protection mode

Stand-by mode with anti-frost protection
Automatic heating curve operation
Automatic heating curve control based on outdoor temperature and setting room temperature. This can be adjusted when too warm or too cold.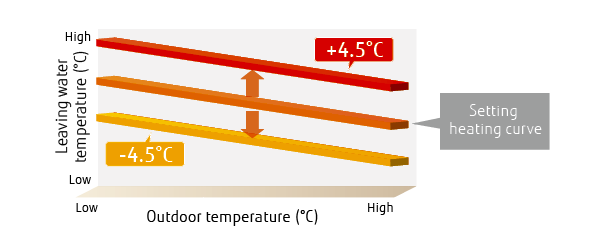 Programmable timer
The setting of timer operation can easily be adjusted.
Changing the heating mode linked with time is possible.
Day-Weekly timer setting
The day-weekly timer can be set up for up to 3 times per day.
Allows separate settings for each day of the week.

Holiday timer setting
The holiday timer can be set for up to 8 periods
If you are absent for a long time in the winter, freezing of room can be prevented.

Auto-changeover
If the cooling operation function is set, the system can automatically switch to cooling or heating, depending on the outdoor temperature to provide all-season comfortable air conditioner.
Remote control-extension
Various remote controls are available on your hands. Remote control is also available via Web. All kinds of life styles are supported.