What's a WATERSTAGE™?
Environmentally friendly water heating system applying heat pump technology that collects heat from the outdoor air
Absorbing the free energy from atmosphere. Heat pump system requires only 1 kW of electricity to generate 3 to 5 kW thermal energy.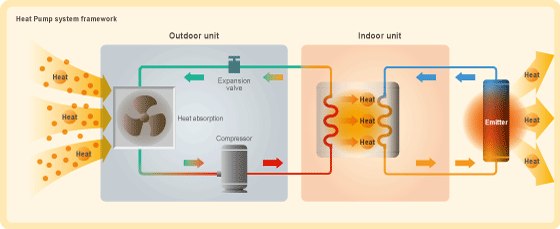 PRIMARY ENERGY USAGE REDUCED DRASTICALLY !
Proportion of primary energy into heating energy of 100%
*

Electricity loss is different due to power plant. Example efficiency of power plant : 36%

Advantages of WATERSTAGE™
LESS CO2 EMISSIONS
Average annual CO2 emissions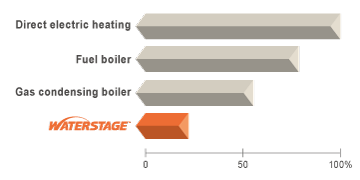 This environmentally-friendly system substantially reduces CO2 emissions compared to conventional gas and hydro carbons combustion.
*

Calculations based on data provided by European Program-2001` for EU 27 Fuel boiler efficiency: 89%, Gas boiler efficiency: 93%
LOW RUNNING COST
Average annual running cost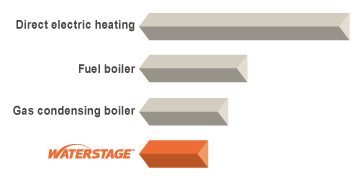 Running cost is low and economical by high efficiency heat pump technology.
*

The values may vary depending on installation, location, and operating conditions.
CLEAN AND HEALTHY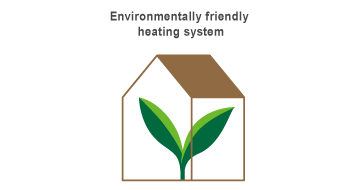 Since burners are unnecessary, NOx and other harmful substances are not generated.
EASY INSTALLATION AND MAINTENANCE
Well structured Hydraulic unit.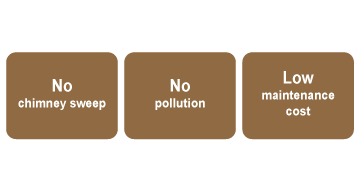 All components are built into compact outdoor unit or hydraulic unit.
Sophisticated arrangement of hydraulic units, allows easy piping and maintenance
The clean energy produced by WATERSTAGE™ reliably delivers "comfort" to all spaces in the home up to the living room, bedrooms, bath and swimming pool.