FAQs : Split Systems

What is the defrost operation?
When outdoor temperature is very low with high humidity, frost may form on the outdoor unit during the heating operation, and it could reduce the operating performance of the product.
*

For frost protection, a microcomputer-controlled automatic defrost function is equipped in this air conditioner.
If frost forms, the air conditioner will temporarily stop, and defrost circuit will operate briefly (maximum of 15 minutes.)
*

OPERATION indicator on the indoor unit blinks during this operation.
If frost forms on the outdoor unit after the heating operation, the outdoor unit will stop automatically after it operates for a few minutes. Then the automatic defrosting operation starts.
Defrost operation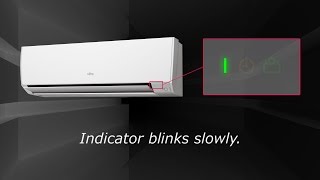 * This video explains by the use of ASTG24KMCA unit.