AIRSTAGE™ VRF Systems

VR-II Series
Features
Common features
Series features
Simultaneous cooling and heating operation by a single refrigerant system
Cooling and heating operation can be selected individually for each indoor unit to provide a comfortable room environment in each room by accommodating widely varying temperatures among them.
Year-round cooling operation
Choose the year-round cooling option for rooms and other spaces that require constant temperature control throughout the year.
Accommodating changes in temperature difference
The operation mode can be changed when there is a substantial temperature difference during the day depending on the season.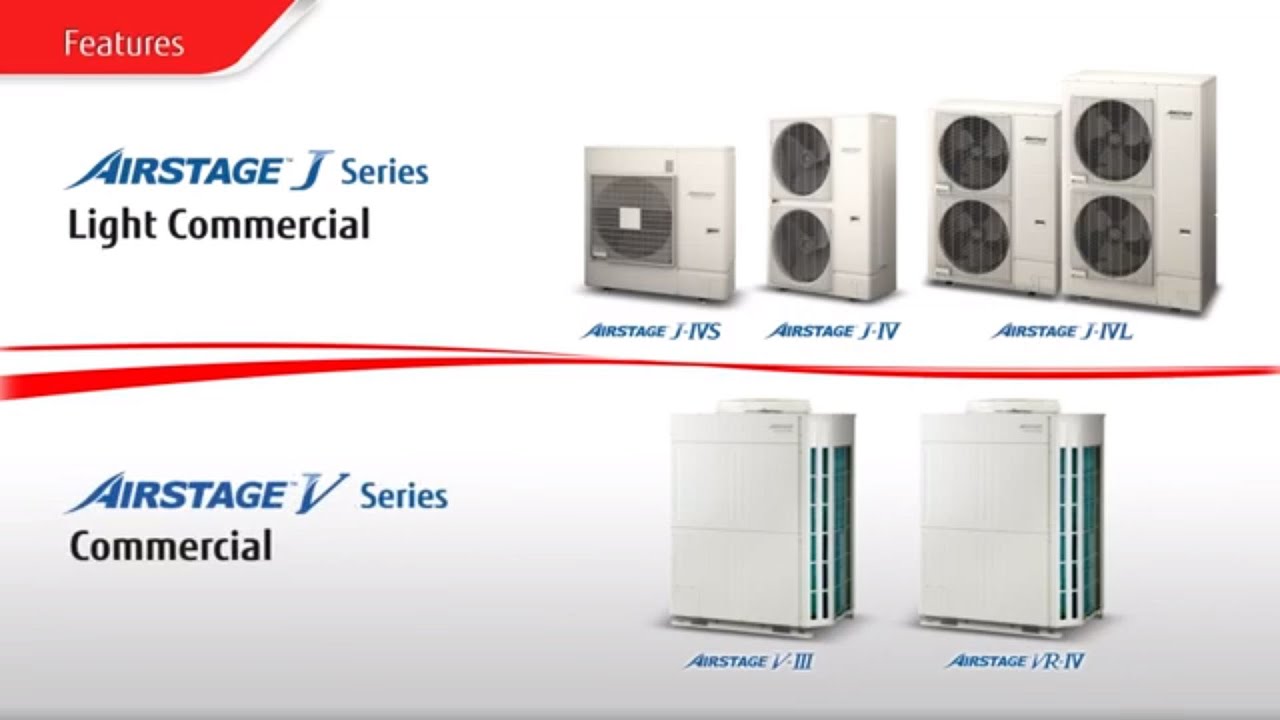 08:38
Highly energy-efficient operation
Our heat recovery systems achieve outstanding energy efficiency by transferring heat energy from rooms to be cooled to rooms to be heated.
Energy-saving technologies for boosting operational efficiency
Large powerful propeller fan
The fan designed by using CFD*1 achieves both high performance and low-noise operation.
*1.

CFD: Computational Fluid Dynamics
3-phase DC fan motor
The use of a DC fan motor with sophisticated driver control improves energy efficiency substantially. In addition, this motor operates quietly.
Sine-wave DC inverter control
The use of a motor with an intelligent power module (IPM) reduces switching loss and achieves great efficiency.
4-face heat exchanger
The 4-face heat exchanger increases the effective surface area and significantly improves heat-exchanging efficiency.
Subcooling heat exchanger
The double-pipe structure with internal projections achieves great heat-exchanging efficiency.
High-efficiency, large-capacity DC inverter compressor
A high-efficiency, large-capacity DC twin-rotary compressor offers excellent intermediate capability.
Front slanted-corner air-intake port
When multiple outdoor units are installed, the uniquely shaped front intake improves the airflow into the heat exchanger.
Space-saving combination

Energy-efficient combination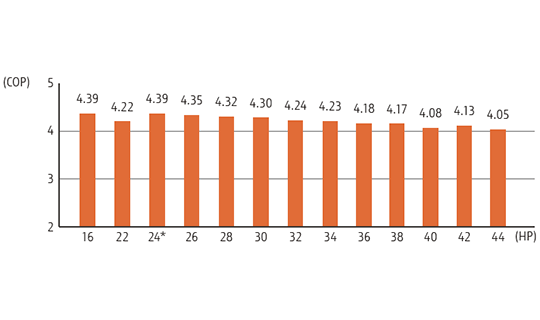 For 24-HP combination
Large-capacity DC inverter compressor
A high-efficiency, large-capacity DC twin-rotary compressor offers excellent intermediate capability.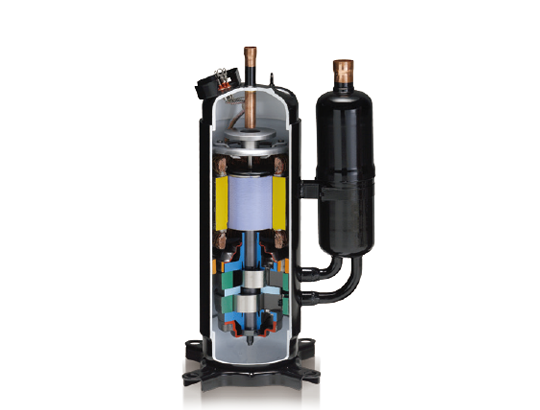 Multiple outdoor operation control
When multiple outdoor units are connected a sophisticated operation is performed by each compressor. Rather than running one compressor at full load and distributing refrigerant to one heat exchanger, this control method operates all compressors at part load and distributes refrigerant to all of the heat exchangers which allows for the overall system efficiency to be improved.
Heat exchanger refrigerant control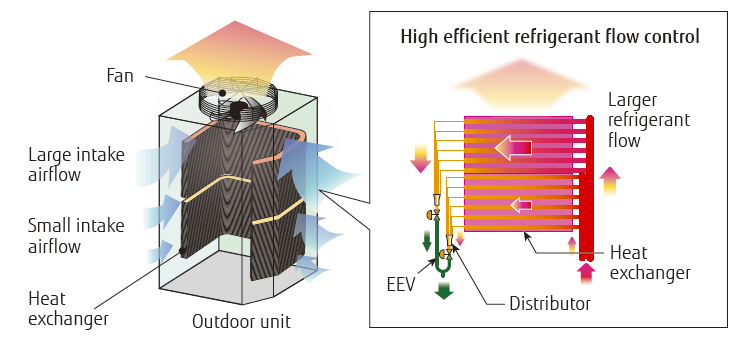 The heat exchanger in the outdoor unit is split into two parts (Top and Bottom). The efficiency of the heat exchanger has been improved by adopting an optimum refrigerant path control where the refrigerant is distributed more into the top heat exchanger as this is where there is a greater airflow intake.
Flexible piping connection
The use of various piping and RB Unit connections enables flexible refrigerant piping work that matches the floor layout and building structure.
An RB Unit can be placed between the first branch and an indoor unit.
The maximum height difference between RB Units is 15 m.
*1. No RB Unit is required for cooling-only use.
Flexible installation of an RB Unit
Small and slim design with a height of 198 mm saves installation space.
A drain pipe is not required.
Different positions of a control box can be chosen to accommodate installation conditions.
Series connection for simplified installation

An RB Unit can be installed on either side of the control box.

An RB Unit can be installed on top of the control box to save space.
2 sets of connection terminals for greater flexibility

Two RB Units can be connected in series.
Easy to maintain in tight spaces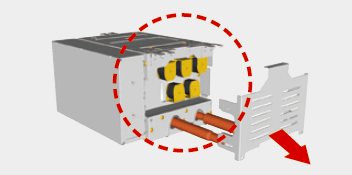 Maintenance can be performed from the side.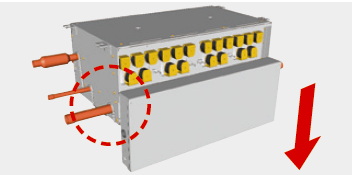 An electrical box can be accessed and serviced by sliding down the front cover.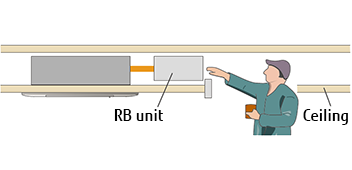 Parts can be accessed and replaced easily even in tight spaces inside the ceiling.
RB Unit (single type)
RB Unit (multi type)