AIRSTAGE™ VRF Systems

J-III Series
Features
Common features
Series features
Greater energy efficiency
Heat pump inverter control achieves efficient cooling and heating operation in any combination of indoor units.
Flexible system configuration for small- and medium-sized buildings
The space-saving design and long piping connection enable flexible installation on the roof or balcony of a small or medium-sized building.
Multiple indoor units of various capacities and types can be connected.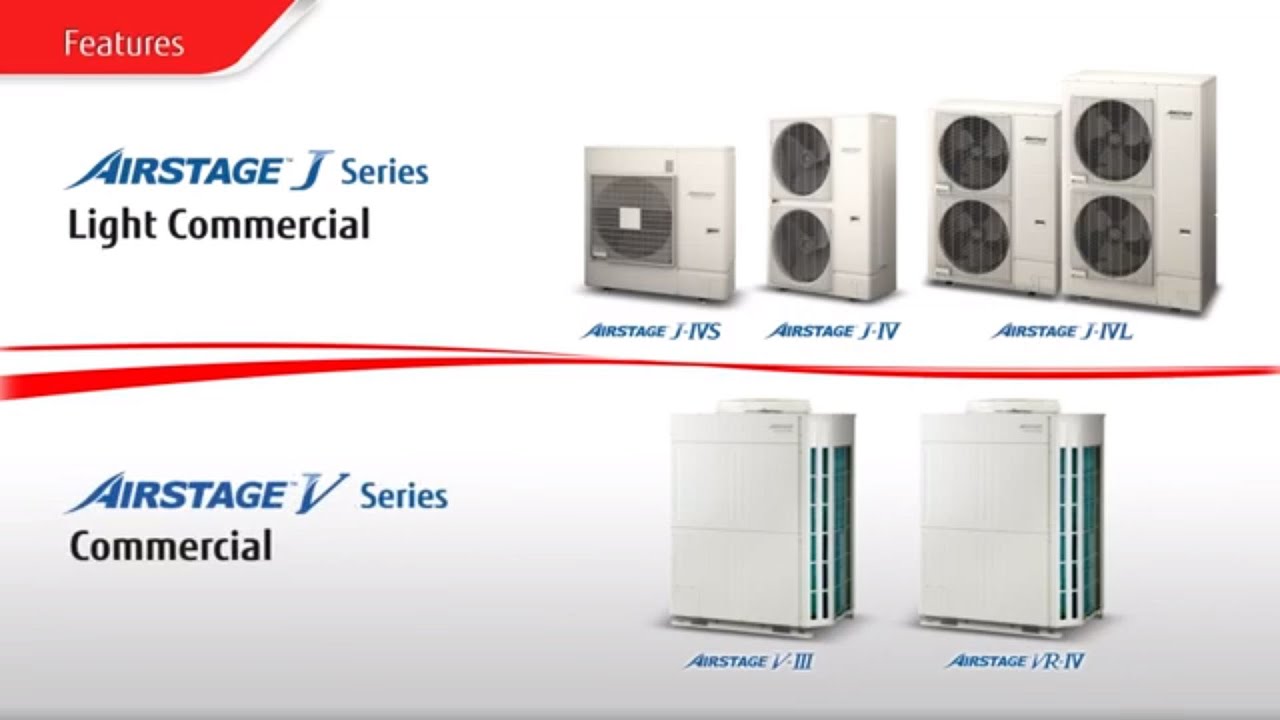 08:38
Outstanding efficiency in real-world operating conditions
The use of a large heat exchanger and a highly efficient DC twin compressor achieves the best-in-class COP in all models.
High EER*1 and COP*2 Energy Efficiency Ratio
3 phase
*1

Energy Efficiency Ratio
*2

Coefficient of Performance
Single phase
Advanced technologies for high efficiency
Large propeller fan
A large propeller fan with an optimized blade angle achieves both high performance and low-noise operation.
DC inverter control
The use of a new active filter module improves efficiency.
DC fan motor
A small, multi-stage DC fan motor contributes to highly efficient, low noise operation.
Large heat exchanger
The use of a large 3-row heat exchanger substantially improves heat-exchanging performance.
Subcooling heat exchanger
The use of a dual-tube heat exchanger improves cooling performance.
DC twin-rotary compressor
High efficiency is achieved across compressor loads. Particularly high efficiency is gained in the low- to medium-load range.
Long piping length
Our advanced refrigerant control technology extends the maximum allowable length of refrigerant piping to 180 m. This provides greater flexibility in system design.
Nonstop operation during oil recovery
The air conditioner maintains uninterrupted cooling or heating operation during oil-recovery mode and keeps the room comfortable.
Easy installation
Confirmation of correct connection

Correct wiring connection and address settings can be confirmed by running a quick check.
Displays the number of each connected indoor unit.
Displays a duplicate address number assigned to an indoor unit.