Split Systems Wall Mount

Designer Series (High COP)
Thin and slim design
The slim and stylish design of this indoor unit is realized by a Ø5-mm heat exchanger and a high-efficiency wind blower.
Powerful operation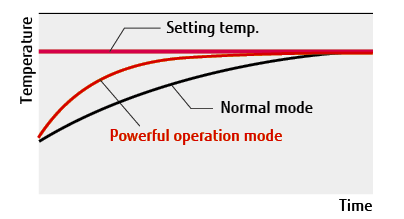 3-mode timer (Weekly/Program/Sleep)
Weekly timer can be set with a Wireless Remote Controller. Up to 4 sets of on/off times can be set per day and up to 28 sets a week. The program timer and sleep timer functions can be selected at the touch of a button.
10ºC heating operation
The room temperature can be set to not go below 10°C so that the room will not become too cold when unoccupied. This function can be activated only with a Wireless Remote Controller.
Low ambient operation